Low-cost, high-efficiency technology will maximise energy production with low LCOE.
London, UK & Barcelona, Spain 28 September 2012

On-Sun Systems announced today that it has demonstrated a rooftop-compatible concentrated photovoltaic (CPV) module with 21% efficiency. The efficiency is based on performance to global radiation over the whole panel area, so is directly comparable to a silicon panel under Standard Test Conditions. The best crystalline silicon modules in the market currently offer 21% efficiency and On-Sun intends to offer a 25% efficient module for sale in 2013, which will have a clear performance advantage.
Several companies are developing commercial CPV systems but these typically require large amounts of space and the use of bulky external trackers which add weight and cost to the system. For this reason, CPV has not yet made an impact on the rooftop solar market.
"That's because until now no-one has found a way of making a small and precise 2-axis tracking system at a reasonable cost," explained On-Sun CEO Andy Tomlinson. "It's a major step forward to have demonstrated this breakthrough product and to attain this level of performance, especially given that it has been designed to achieve a lower manufacturing cost than crystalline silicon products."
In a first for CPV, On-Sun has delivered a high-efficiency CPV product in a fixed, flat module of a similar size to standard silicon PV panels. On-Sun's modules include a patented 2-axis tracking system that operates completely within the confines of the fixed module casework. The modules can be fitted using standard mounting systems and installers will not require special training. This also allows a large number of On-Sun modules to be installed on a small area of rooftop, which, combined with the high efficiency of those modules, will generate more power at a lower levelised cost of energy (LCOE) than conventional silicon modules.
On-Sun's Chairman, Giles Clark, said; "We are very pleased with achieving this milestone. Our module is already as efficient as the best high efficiency silicon panels, and we intend to raise our efficiency to 25% when we launch the product to market in 2013. We are confident that, in the sunny parts of the world, On-Sun's modules will generate more power at lower cost than any other rooftop system.''
About On-Sun Systems
On-Sun Systems is commercialising a disruptive concentrated photovoltaic (CPV) technology offering superior efficiencies and energy density over standard photovoltaic technologies. The solar modules are uniquely suited to both rooftop applications due to their compact modular form factor and mounting characteristics. http://www.onsunsystems.com/
Concentrated photovoltaic (CPV)
CPV uses lenses to concentrate sunlight onto very small photovoltaic elements and requires the use of tracking systems to follow the sun. CPV offers two significant benefits over conventional silicon modules. Firstly, system costs are reduced because the area of expensive photovoltaic material is very small. Secondly, it is possible to exploit multi-junction photovoltaic cells originally developed for space applications. These cells are >40% efficient, and hence can be used to make CPV products that are more efficient than conventional silicon modules. Without concentration, the high efficiency cells would be prohibitively expensive, but when concentration factors of >500x are used, the economics work in CPV's favour.
Levelised Cost of Energy (LCOE) is a measure of the lifetime cost of generating electricity from a power plant. It takes into account the capital cost of the system, the running costs and the amount of power generated over the working life of the system. It is expressed as a cost per kilowatt hour.
Featured Product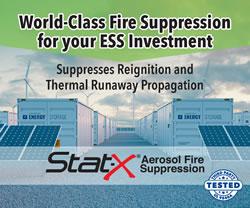 Stat-X® condensed aerosol fire suppression is a solution for energy storage systems (ESS) and battery energy storage systems (BESS) applications. Our Stat-X condensed aerosol fire extinguishing product was tested for efficacy in suppressing li-ion battery fires. It was found that the product successfully extinguished single and double cell battery fires. This testing was conducted in parallel with a large battery fire testing program on behalf of a large energy storage company.