The Taiwan LED lighting manufacturer Aeon Lighting Technology (ALT) has won the 2012 Good Design Award
(Oct 1, Taipei) The Taiwan LED lighting manufacturer Aeon Lighting Technology (ALT) has won the 2012 Good Design Award with its Asteria MR16—an achievement that makes ALT stand out from more than 3000 competitors, making it one of the rare few Taiwan-based LED manufacturers that have managed this feat. ALT has become the first LED lighting manufacturer in Asia to acquire several of the top design awards—「IF Design」, 「M-Technology」, and 「RedDot」—in the world.

The Good Design Award (G-mark) was originally created in 1957. It has become one of the most authoritative and influential design awards in the world, like the 「iF Product Design Award」, 「RedDot」, and 「IDEA」. The Award has only been given to the most outstanding designs for the past 50 years. It is the most prominent and creditable consumer index in Japan, used in over 80% of the Japanese market. The judges remarked that the ALT's MR16 has high-quality craftsmanship both in product appearance and overall design. It also demonstrates the creativity of Taiwanese design and practicality in lighting. In the future, ALT's MR16 is expected to be displayed among the other superb designs from Japan and provide further inspiration to industrial designs across all of Asia.
ALT's MR16 continues to uphold itself to the standard of helping to achieve a higher level of eco-friendliness and a global carbon-footprint reduction through high quality design and efficiency. Not only is the 7W LED capable of replacing the 50W traditional lighting, a 90% energy savings, but the extraordinary patented heat dissipation system, along with superior in-house power design, help prolong its lifespan. ALT's MR16's unique design can truly help end users reduce their carbon-footprint in addition to being able to find better uses for their limited resources.
The CEO of ALT, James Liang, referring to《The Economy of Aesthetics》, said that "Design is the national strength." ALT's ability to acquire several world-class design awards has proven that its R&D and design capabilities rival those of world-renowned LED manufacturers. It also means that ALT's success is representative of the Taiwanese LED industry's ability to outshine other competitors in the global market. ALT will bring an unlimited potential and value to the LED industry during this recession. ALT wishes to bring Taiwan's design global recognition via design awards, such as the G-Mark (Japan); iF Design Award (Germany); and RedDot (Germany), and plans on adding the prestigious IDEA award (USA) to this ever growing list.
For more information please visit us at www.aeonlighting.com or email us at info@aeonlighting.com
Featured Product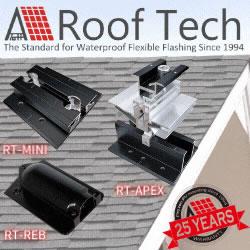 Now Roof Tech brings you the most innovative, watertight mounting systems ever developed for solar photovoltaic systems. Designed and manufactured exclusively for us by Japan's longtime leader in roofing technologies, Roof Tech products are 100% code-compliant and offer fast, simple installation and huge savings on shipping costs due to their compact, rail-less design. Learn more about our full line of versatile PV mounting solutions now available for residential installations. The next generation in rooftop solar mounting solutions."