Thousands of tenants in social housing properties across the UK are set to benefit from reduced energy bills and cleaner, greener, reliable heating this winter thanks to leading renewable energy company, Ice Energy Technologies.
In a series of projects funded by a combination of Renewable Heat Premium Payment (RHPP) phase 1 and 2 grants and full funding acquired by Ice Energy on behalf of the social housing providers, ground source heat pumps and air source heat pumps are being installed across a range of property types in social housing stock across the country. By replacing existing expensive and inefficient heating systems such as electric storage heaters and gas boilers, it is expected that the heat pumps could in some cases halve the energy bills of tenants, while also tackling the growing threat of fuel poverty.

As well as supplying and organising the installation of the heat pumps, Ice Energy are providing their considerable project management skills which have been obtained and honed during many years of working on similar projects with a host of social housing providers. This includes activities ranging from technical surveys, tenant liaison and the drilling of boreholes for the ground source heat pumps to assisting with the RHPP funding application process, all of which are designed to make the projects as painless and unobtrusive as possible for both the housing associations and their tenants.
Discussing the projects, Ice Energy Managing Director Andrew Sheldon said "These are extremely worthy projects which will provide a range of benefits to tenants receiving our heat pumps.
As well as addressing the issue of fuel poverty by helping to reduce fuel bills and with it the worry of how to meet rising energy costs, tenants will also benefit from systems which are incredibly simple to maintain. They are also infinitely safer than fossil fuelled boiler systems for example as there is no risk of explosion or leakage of noxious fumes. Additionally, as we move towards the start of the heating season, families can be safe in the knowledge that they will benefit from highly efficient heating systems this winter with little or no risk of breakdown."
But according to Mr. Sheldon it's not just the tenants who stand to benefit from the addition of heat pumps to their properties; "The social housing providers themselves will benefit hugely as the requirements for compliance certification and all the logistical problems associated with that process are removed while the burden of dealing with calls from irate tenants with no heating is also greatly reduced. This means money usually earmarked for maintenance and call out costs can be used to help benefit communities in other ways."
Featured Product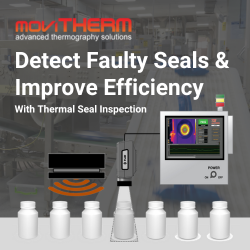 MoviTHERM's Thermal Seal Inspection (TSI) solution provides precise and reliable detection of defects in a variety of packaging types, including pouches, bags, blister packs, bottle caps, and more. By detecting defects in your packages, the TSI solution helps increase efficiency in your production line and ensures top-quality packaging is delivered to your customers every time. With state-of-the-art technology and an experienced team, MoviTHERM is dedicated to delivering accurate inspection solutions and peace of mind to its clients. Contact MoviTHERM today to learn more about their thermal seal inspection solution.