Saturday, October 13, 2012 from 11 a.m. to 4 p.m.
They are in the city, suburbs, and rural areas. On home and garage rooftops, on poles, and on the ground. They power homes, businesses, farms, and even automobiles. They are on new construction and existing buildings. And every one of the owners is proud as punch, and wants to show them off. They are the 16 area solar-powered homes and businesses featured on the 2012 Pittsburgh Solar Tour, a self-guided expedition set for Saturday, October 13 from 11 a.m. to 4 p.m.

Presented by Three Rivers Solar Source, a project of Citizens for Pennsylvania's Future (PennFuture), the tour provides local homeowners and others interested in how solar works in western Pennsylvania with real live demonstrations and discussions with the owners and installers of solar energy. Tour attendees will also receive information about local companies providing solar, and the financial support and public policy that makes it all come together.
The cost of the tour is $5, which covers any and all stops on the tour. All materials for the tour – a full-color guide, map, tickets, and access to a smart phone app – are available online at www.pghsolartour.org.
Tour stops are located in and around the City of Pittsburgh, South Hills, Canonsburg, Aspinwall, Forest Hills, Cranberry, Aliquippa, Saxonburg, New Brighton, Gibsonia, Cheswick, Uniontown, and Bentleyville.
Featured Product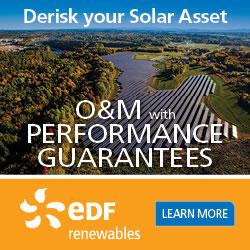 EDF Renewables offers the same innovative solutions that maximize the performance of our own 5.2 GW of installed projects. Because we're not an equipment manufacturer, our recommendations are transparent and data-driven. We cover the entire project lifecycle: from pre-commissioning support, through warranty and post warranty operation, to late stage and decommissioning.