Triex Hybrid Solar Cell Has Achieved 21 Percent Conversion Efficiency in Production
FREMONT, Calif.--Silevo, Inc., a solar cell innovator and photovoltaic (PV) solar module manufacturer, today announced that its proprietary Triex™ solar technology was awarded The Solar Industry Award 2012 for Excellence in Innovation by a panel of industry experts and editors from Solar International magazine. Silevo's Triex technology is a hybrid solar module that goes beyond traditional silicon-based PV to deliver high efficiency and low temperature coefficients at a previously unattainable cost of production.

The Solar Industry Awards recognize the PV value chain and those people, products and services that are developing innovative manufacturing and product approaches that demonstrate technological development towards grid parity while reducing overall cost. The award win comes on the heels of Silevo's announcement that it has achieved greater than 21 percent conversion efficiency with its Triex solar cells at its high volume manufacturing facility—one of the highest across the solar industry.
"Silevo is honored to be presented with The Solar Industry Award for our advancements with Triex technology," said Zheng Xu, founder and CEO of Silevo. "Now that we've begun commercial production of Silevo cells with greater than 21 percent conversion efficiency, this award reflects our determination to develop and bring to market a technology that makes sustainable, widespread solar adoption viable for the energy market. Silevo's Triex technology is the first offering that can bring significant balance of system (BOS) savings, as well as an increased energy yield."
Silevo's proprietary Triex technology evolves silicon-based PV as the first hybrid solar solution to combine high-performance crystalline silicon N-type substrates, thin-film passivation layers and a unique tunneling oxide layer—all in a single solar module. Powered by breakthrough "tunneling junction" architecture, these three materials together enable the Triex module to deliver high efficiency, competitive module costs and optimal energy harvest.
"The Solar Industry Awards continue to reward and recognize the people, process and products that make up the global PV and solar industry," said David Ridsdale, editor in chief of Solar International. "Now in their fourth year, the awards are voted for by the industry ensuring these awards are decided by the industry. Silevo's Triex technology exhibits the complexity and comprehensiveness of the PV market and was selected as a winner due to the confidence of the awards selection panel in recognition of the perceived value Silevo's technology can add to the industry."
Winners of The Solar Industry Awards were honored in Frankfurt, Germany at the Jumeirah Hotel on September 24, 2012. The full list of honorees in all categories is available at http://www.solarinternationalawards.net/winners.
About Silevo, Inc.
Silevo, Inc. is a photovoltaic (PV) solar module manufacturer and innovator that evolved silicon-based cells and modules to both increase performance and lower costs, with the ultimate goal of achieving grid parity. The company was founded in 2007 by leading executives and innovation engineers from the semiconductor industry with the business strategy of combining U.S.-based headquarters and R&D facilities with scalable, automated, low cost manufacturing operations in Hangzhou, China. Silevo's unique technology and a low cost operations model aligns with its mission to transition today's subsidized PV market into a self-sustaining future that furthers widespread solar adoption. For more information, please visit www.silevosolar.com.
Featured Product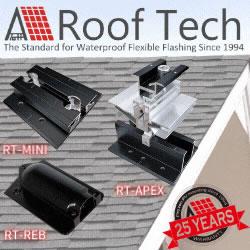 Now Roof Tech brings you the most innovative, watertight mounting systems ever developed for solar photovoltaic systems. Designed and manufactured exclusively for us by Japan's longtime leader in roofing technologies, Roof Tech products are 100% code-compliant and offer fast, simple installation and huge savings on shipping costs due to their compact, rail-less design. Learn more about our full line of versatile PV mounting solutions now available for residential installations. The next generation in rooftop solar mounting solutions."