Petra Engineering is developing a Gas to Energy project at the Surry County, NC Landfill. The project is being privately funded and will be no cost to the County. Drilling is scheduled to begin next week.
Contact: Lynn Marshall October 1, 2012
704-953-7816 FOR IMMEDIATE RELEASE
Surry County Hosts Groundbreaking for Landfill Gas to Energy Project
On September 25, 2012 Petra Engineering hosted a groundbreaking ceremony for the Surry County Landfill "Gas to Energy" project at the landfill. The project is the first public-private partnership of its' kind in the area and underscores Surry County's commitment to the environment and support for renewable forms of energy. County officials were joined by leaders in the area's civic business communities for the ceremony.
Barnabas Investment Group and Petra Engineering, of Huntersville, NC, worked with Dennis Bledsoe, Interim Public Works Director, along with the County Commissioners to develop the project. The county has been considering the possibility of the gas-to-energy project for several years while working with CHA Consultants Inc., of Charlotte, to determine the feasibility of such a project at the county landfill. Bob Sallach of CHA Consultants says the county would receive revenue from the project without any cost or financial obligation.
During the groundbreaking, Wayne Marshall, a Principal of Petra Engineering, said the event marks the beginning not the end of the project.
"This day marks the beginning of construction on a project that will take a naturally-occurring by-product from your landfill and convert it into enough power to light more than 950 homes annually," he said.
The project will collect methane gas that is released as a natural by-product of decomposition, clean it and use it to create electricity. Under the gas to energy project, Petra Engineering will install a collection system to harvest the methane gas and direct it to a 20-cylinder engine for Barnabas Investment Group. This engine that is specially designed by Caterpillar, uses methane to produce 2,240 horsepower which powers a 1600 kilowatt generator. The greenhouse gas reductions from facility will reduce annual greenhouse equal to 13,450 passenger cars.
Barnabas Investment Group has entered into long term Power Purchase Agreement (PPA) with Duke Energy Carolinas for the power from the project. As part of North Carolina's Renewable Portfolio Standard (RPS), the state has required retail sellers of electricity to serve a growing percentage of their load requirements with renewable energy.
Commissioner Larry Phillips called the project a win-win for the county.
"What you're seeing here today is a problem being taken and converted into a renewable form of energy that will in turn become a source of revenue for the county," he said.
It was a sentiment that was echoed by state Senator Don East, who lives only a couple of miles from the landfill.
"This is a something that's very innovative and I'm glad it's being done in Surry County," he said, looking over the landfill, "I believe we're standing on all sorts of energy right now. I can't wait to see what a great success this will be for the county."
Wayne Marshall, CEO of Petra Engineering says, "Petra has achieved significant success working with many landfill, County and Municipal projects and initiatives. We look forward to our partnership with Surry County and being a part of the positive impact this project will have on the County and its' residents".
The Landfill Gas to Energy project is expected to begin generating electricity before the end of the year.
Petra Engineering was founded in 2003 as a single-source provider of comprehensive energy and renewable services. By integrating renewable energy, demand-side and supply-side solutions, Petra Engineering works with its clients to leverage and optimize alternatives, reduce operating expenses, upgrade and maintain facilities, increase energy reliability and enhance the environment. For more information, visit www.petraeng.com.
Featured Product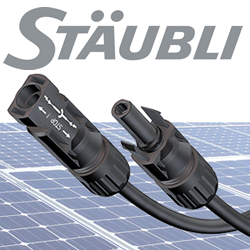 ​Stäubli Electrical Connectors are used on more than 300 GW, over 50% of the PV capacity worldwide. The MC4 family of UL and TUV listed products include connectors, in-line fuses, branch connectors, cable assembly and more.