Being held in Stoneleigh Park, Warwickshire
3 October, 2012 - London: nextgen, the UK's fastest growing event showcasing

emerging renewable energy technologies being held in Stoneleigh Park,
Warwickshire, is now just a week away.
nextgen encompasses ebec, the UK's largest bioenergy show, and microgen, a
show serving small-scale (sub-50kW) power producers. Last year, the event
attracted over 3,000 visitors and 200 exhibitors.
Lucy Pitt, group marketing manager of Nextgen Media, commented: "We are
looking forward to a couple of very busy, productive and highly
inspirational days next week, with positive results for all those exhibiting
or speaking at nextgen. Those with a business or professional interest in
renewable energy will not be disappointed."
10 reasons for visitors to attend:
3 events for free
With a trio of events combined at one location, nextgen makes it easier for
visitors to retrieve relevant information and to establish business
connections. Registration for the event is free.
Unmissable conference
nextgen features a multi-stream free to attend conference delivering a range
of topical and 'how -to' presentations and panel discussions on the latest
issues facing the industry. The conference has attracted a wide range of
policymakers, customers, market players and decision makers. To view the
prestigious speaker line-up and discussion topics, click here:
http://www.nextgenexpo.co.uk/conference-programme
Demonstrations, displays and dialogue
With several demonstrations each day, both in and outdoors, visitors at
nextgen can expect to get a close look at renewable energy technologies and
receive firsthand guidance from developers and operators.
Latest advice on new policy
Following proposals recently unveiled by the Department for Energy and
Climate Change (DECC) for the next phase of the Renewable Heat Incentive
(RHI) scheme, nextgen is an ideal opportunity to understand what is being
planned and how the programme will be managed and delivered to domestic and
commercial customers. It is also an opportunity to gain insights about the
likely impact of The Green Deal.
Connect and network with industry professionals At nextgen, visitors will be
able to link up with some of the most experienced, influential, and
well-known experts who understand the challenges they face.
Led by the trade
nextgen is supported exclusively by the industry's leading trade
associations such as the Renewable Energy Association (REA), the
Microgeneration Certification Scheme (MCS), the Micropower Council and the
Solar Trade Association, so visitors can be assured that the advice and
guidance on offer is professional and correct.
Free 1-2-1 clinics
nextgen is offering a unique range of free drop-in clinics with a host of
industry bodies and policy makers. One-to-one consultation sessions are
being offered by Ofgem on the administrative requirements for the RHI and
the application process; The National Non-Food Crops Centre
(NNFCC) on bioenergy economics and investment; and Agrii on which renewable
energy best fits farmers. Clinics are also being offered by National Grid,
National Farmers Union and Environment Agency.
Evaluation of choices made easier
Bringing all the renewable energy solutions in one place at one time is a
unique advantage for the show. For those undecided about which renewable
energy source to select, nextgen provides essential information, guidance
and support. For those ready to make an investment in a specific renewable
energy project, nextgen is the perfect place to compare all of the options
available from over 200 different suppliers, side by side.
Dragons' Den
nextgen will host a range of 'Dragons' Den' style presentations where.
entrepreneurs and inventors of renewable energy technologies looking for
funding will pitch their ideas for the first time in public to a panel of
industry experts comprised of energy specialists, engineers, investors and
lawyers. Submissions received so far include an algae photobioreactor
manufacturer, a start-up developing a new hybrid solar thermal product, fuel
synthesis and energy storage through microwave plasma and an entrepreneur
with a new wave and tidal design.
Innovations
Beyond the Dragons' Den, there are always many marvellous innovations on
show at nextgen and this year promises to be no different. Indeed, many
companies plan to hold product launches to coincide with the event. Keep
updated by following our news and those of our exhibitors/partners on
Twitter: @nextgenexpo
About nextgen
Showcasing the future of energy generation, nextgen is the UK's fastest
growing event showcasing emerging renewable energy technologies. The event,
co-located with ebec and microgen, will be held on 10-11 October
2012 at Stoneleigh Park, Warwickshire. ebec is the largest dedicated
bioenergy expo in the UK while microgen focuses on small-scale
micro-renewable technologies (sub-50kW). Besides hosting a major
international exhibition, the two-day event includes a free conference
programme which offers delegates the chance to debate, learn and network
with industry peers. nextgen is supported exclusively by the industry's
leading trade associations - the Renewable Energy Association (REA), the
Microgeneration Certification Scheme (MCS), the Micropower Council and the
Solar Trade Association. For more information, please visit
http://www.nextgenexpo.co.uk
Featured Product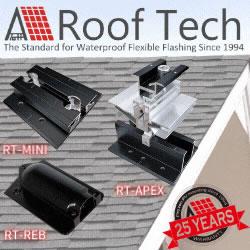 Now Roof Tech brings you the most innovative, watertight mounting systems ever developed for solar photovoltaic systems. Designed and manufactured exclusively for us by Japan's longtime leader in roofing technologies, Roof Tech products are 100% code-compliant and offer fast, simple installation and huge savings on shipping costs due to their compact, rail-less design. Learn more about our full line of versatile PV mounting solutions now available for residential installations. The next generation in rooftop solar mounting solutions."