New battery technology also reduces reliance on traditional generation
RICHLAND, Wash. – A Washington state firm with a 27,000 square feet manufacturing and design facility in Mukilteo has signed a license agreement with Battelle to further develop and commercialize a type of advanced battery that holds promise for storing large amounts of renewable energy and providing greater stability to the energy grid.

The agreement with UniEnergy Technologies LLC is intended to advance and commercialize "redox flow" battery technology.
Developing a technology that can smoothly integrate energy from variable and intermittent sources — such as wind and solar power — onto the electricity grid while maintaining grid stability has proven challenging. First developed in the 1970s, redox flow batteries are one type of storage technology that has shown the ability to meet this challenge. But until now, these batteries have been limited in their ability to work well in a wide range of temperatures, their relatively high cost, and their limited ability to store energy, otherwise known as energy density.
Recently however, with funding from the Energy Department's Office of Electricity Delivery & Energy Reliability, researchers at DOE's Pacific Northwest National Laboratory have made significant progress in improving the performance of redox flow technology.
Redox flow batteries are a type of rechargeable battery that stores electrical energy in two tanks of electrolytes, which are then pumped through a reactor to produce energy. The PNNL-developed vanadium electrolytes incorporate two novel approaches to overcome the limitations of previous generations of redox flow batteries. The result is a dramatically improved operating range, higher energy density and lower cost for vanadium redox flow batteries.
The licensing agreement with UniEnergy will lead to enhanced commercial products for utilities, power generators and industry that will enable the energy grid to operate more reliably and efficiently, with better integration of renewable resources, such as energy produced by wind and the sun.
"The redox flow battery is well-suited for storing intermittent, renewable energy on the electricity grid. The technology can help balance supply and demand, prevent disruptions and meet the grid's varying load requirements," said Imre Gyuk, energy storage program manager at DOE's Office of Electricity Delivery & Energy Reliability in Washington, D.C.
"Redox flow batteries can also help utilities during times of peak demand on the grid, providing additional power when it is needed," he added. "Successful commercialization of DOE-sponsored technology development, such as this, is vital for creating the grid of the future, and sustaining U.S. leadership in advanced technology."
About UniEnergy Technologies LLC
UniEnergy Technologies, Inc., or UET, is a privately-held clean energy company, founded in Washington state and based in Mukilteo, Wash. UET's founders are President Gary Yang, and Chief Technology Officer Liyu Li, both experts in energy storage technologies. UET's mission is to scale up and commercialize new generation redox flow batteries and other advanced electricity storage technologies through wide collaboration with partners that include leading industries, associations and research institutions in related fields as well as government bodies.
About Battelle and PNNL
Interdisciplinary teams at Pacific Northwest National Laboratory address many of America's most pressing issues in energy, the environment and national security through advances in basic and applied science. PNNL employs 4,600 staff, has an annual budget of nearly $1 billion, and has been managed for the U.S. Department of Energy by Ohio-based Battelle since the laboratory's inception in 1965. For more, visit the PNNL's News Center, or follow PNNL on Facebook, LinkedIn and Twitter.
Featured Product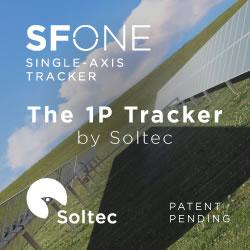 SFOne is the 1P single-axis tracker by Soltec. This tracker combines the mechanical simplicity with the extraordinary expertise of Soltec for more than 18 years. Specially designed for larger 72 an 78 cell modules, this tracker is self-powered thanks to its dedicated module, which results into a lower cost-operational power supply. The SFOne has a 5% less piles than standard competitor, what reduces a 75% the labor time.