International Trade Commission Takes Testimony in Final Hearing
WASHINGTON, D.C., Oct. 3, 2012 – Top U.S. solar-industry officials today surveyed the stunning and still-mounting U.S. economic damage that they say has resulted from a Chinese government-backed campaign to flood the U.S. market with solar products and destroy domestic competition. Nearly exactly a year into trade cases investigating Chinese practices, they testified that Chinese imports have accelerated losses of high-paying jobs and plant closures at a time when the United States is struggling to jump-start a struggling economy.

The final hearing before the International Trade Commission (ITC) was among the last milestones in one of the largest U.S. antidumping and anti-subsidy cases brought against China. Based on a preliminary ITC hearing last November, the six-member ITC issued a unanimous preliminary ruling on Dec. 2, 2011, that the Chinese practices are materially injuring the domestic crystalline silicon solar manufacturing industry. The ITC will announce its final determination on Nov. 7. If it votes affirmatively, it will validate whatever final import duties that the Department of Commerce announces on Oct. 10; in preliminary decisions, Commerce imposed both significant anti-dumping and anti-subsidy duties.
Testifying before the ITC, executives from American solar manufacturers, distributors and installers charged that massive Chinese subsidies and overcapacity – and a corresponding surge in dumped Chinese imports – are the unmistakable causes of damage to the American solar industry. They added that without relief, including application of duties to the surge in imports after the cases were filed, it is unlikely that the American industry can survive.
Hearing witnesses included Gordon Brinser, U.S. president of manufacturing, and Kevin Kilkelly, president of sales in the Americas, of SolarWorld, the largest U.S. producer of crystalline silicon solar cells and panels, and Steven Ostrenga, chief executive officer of Milwaukee-based Helios USA. They testified on behalf of the SolarWorld-led Coalition for American Solar Manufacturing (CASM), which includes about 225 companies employing more than 18,000 workers. Others witnesses included Brigadier Gen. Michael Caldwell, Oregon Military Department; Joe Morinville, president of Pittsburgh-based installation firm Energy Independent Solutions; Mike McKechnie, president of installation firm Mountain View Solar in Berkeley Springs, W.Va.; and Mark Ferda, renewable energy manager for electrical-supply company McNaughton-McKay Electric Co. in Madison Heights, Mich.
"Five years ago, we saw the industry really taking off in the United States, and we carefully planned how we would be a responsible leader in this growing market," Brinser testified. "We made enormous investments in our facilities and devoted substantial resources to technological development. However, far from benefitting from the growth in U.S. demand, SolarWorld has been severely harmed by unfairly traded Chinese imports."
"Just as the market began to flourish, Chinese imports rushed into the U.S. market," Ostrenga said. "In fact, soon after we opened our manufacturing facility in early 2011, Chinese imports surged into the United States at astonishing levels. Market prices began to plummet … even with our automation, low direct labor costs and freight advantage, we cannot compete with the Chinese government."
CASM contends that China's state-sponsored export aggression has caused at least 14 U.S. manufacturers to close or downsize operations, resulting in the loss of thousands of jobs in Arizona, California, Massachusetts, Maryland, New Mexico, New York, Pennsylvania and Tennessee. The most recent shutdowns, they said, include Schott's plant in New Mexico and Sharp's plant in Tennessee.
"The last time I testified here … SolarWorld had just been forced to shut down the Camarillo facility and lay off nearly 200 workers, many of whom I know well," Kilkelly said. "Now, more workers and production at our Hillsboro, Oregon facility are threatened. We hope that with relief from this case, we will be able to stop the harm to this industry and return to fair competition in this market."
SolarWorld filed petitions with the ITC and Commerce on Oct. 19, 2011. As a result of intensive investigations, Commerce announced preliminary anti-subsidy duties of up to 4.73 percent on Chinese cells and panels in March and preliminary anti-dumping duties on Chinese solar cell and panel imports ranging from 31 percent to 249.96 percent in May.
The witnesses' testimony will be available at www.americansolarmanufacturing.org.
Featured Product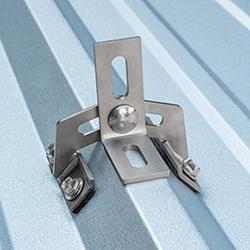 Explore new lines of income for your solar installation business with QuickBOLT's Stone Coated Steel roof mounts designed in partnership with metal roof manufacturers themselves. These SCS roof mounts work on all metal tile profiles and will help you bring in money you're missing out on. By not driving into the roofing material, QuickBOLT's Stone Coated Steel roof hooks maintain the integrity of the roof. Install with ease and confidence knowing your roof is protected against the harsh elements that these hooks are designed for.