Advanced Green Technologies (AGT), a global solar photovoltaic (PV) products distributor, announces $0.36/W cash rebate program for PV system owners, running from October 15th through December 15th, 2012.
October 3rd, 2012, Ft. Lauderdale, FL – Advanced Green Technologies (AGT), a global solar PV products distributor, announces the AGT Solar Rebate™ program that will run from October 15th, 2012 through December 15th, 2012. The rebate program will provide a solar PV system owner/end user with a $0.36/W cash rebate, following system installation. Depending on other federal and state incentives used, this rebate can improve a system owner's return on investment (ROI) by 15% - 30%.

"We wanted to develop a program that would positively impact the ROI for a system owner," said David Goodman, CEO of AGT. "Receiving cash after a construction project is a pretty neat twist. And, in this case, the cash will allow the PV system owner to significantly improve his/her ROI and see positive returns much sooner," he added.
In order to take advantage of the AGT Solar Rebate program, solar installers and potential system owners must confirm their orders with AGT between 10/15/12 – 12/15/12 to be eligible for the rebate. The rebate can be combined with other federal, state, and utility renewable energy incentives to further increase savings to the end user. Additionally, there are no restrictions on system size or number of rebates allocated per re-seller, installer, and system owner.
For more details on eligibility and requirements, interested system owner/end users and installer/contractors should contact AGT toll-free at: 888-735-2641, or download the rebate application at:http://bit.ly/Q0YGrd
About Advanced Green Technologies Distribution:
Advanced Green Technologies (AGT) provides high quality solar photovoltaic (PV) products and distribution services for customers around the world. AGT distributes all products necessary for large and small solar PV installations including: modules, inverters, mounting, balance of system (BOS) components, and data monitoring. AGT has established strategic partnerships with leading PV manufacturers, in order to provide its customers with the best products on the market at the lowest prices. Because of AGT's volume, it can provide prices lower than if you purchase direct. Let AGT give you a FREE Quote Today, call toll-free at: 888-73502641, or visit online: www.AGT.com.
Featured Product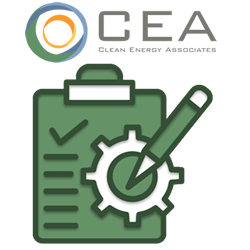 Clean Energy Associates provides a complete quality assurance solution that covers the entire product lifecycle of PV modules, storage systems, and every Balance of Sy stem (BOS) component. CEA's experienced on-the-ground and international team of quality control engineers and account managers offer an unparalleled quality assurance presence that can protect solar and storage investments and ensure future energy-producing viability for the life of the product.