Largest single order in its company history
Mississauga, Ontario, Canada - October 3rd, 2012 - Hydrogenics Corporation (NASDAQ: HYGS; TSX: HYG), a leading developer and manufacturer of hydrogen power and generation systems, today announced that it has been awarded the largest single order in its company history by a major OEM. Secured by Hydrogenics' Power Systems division, based in Toronto, Canada, the follow-on contract includes a firm-fixed-price exclusive design and manufacture contract valued at over US $36 million. Over the next 3 years, Hydrogenics will supply propulsion system equipment including integrated fuel cell power systems, power electronic converters, associated hardware and propulsion system software. The contract includes additional equipment commitments of US $13 million as well as optional equipment and services totaling another US $43 million over a 10 year period. These options will be triggered as required for production, spare parts, warranty, and service requirements.

Hydrogenics has been engaged in development work on hydrogen-based propulsion systems with this OEM over the past 7 years. This follow-on contract represents the transition to full commercialization of the technology. The hydrogen powered propulsion system is crucial to enabling a full range of key benefits to the OEM's commercial product. In the contract the customer has made an irrevocable commitment to a minimum number of commercial deployments over a fixed time period. Over the ten year life of the contract, Hydrogenics will deliver development services, commercial product, spare parts, integration services, and field support.
Hydrogenics integrated power propulsion systems are designed and built to exacting requirements to meet the extreme conditions typical for this application's demanding operating environment. Chosen for its demonstrated superior performance and reliability, Hydrogenics hydrogen power technology offers significant benefits for life-cycle cost, reduced maintenance and greater operational flexibility. Hydrogen power propulsion features high durability, excellent fuel efficiency and zero emissions.
"This is a major triumph and underlines our position as a global fuel cell technology leader with the capabilities and experience to deliver hydrogen power technology to world-leading organizations", said Daryl Wilson, "The magnitude of this follow-on contract and level and length of commitment that one of our OEM partners has placed in us underlines their confidence in our people, our technology and our Company," said Daryl Wilson, President and Chief Executive Officer.
About Hydrogenics:
Hydrogenics Corporation is a world leader in engineering and building the technologies required to enable the acceleration of a global power shift. Headquartered in Mississauga, Ontario, Hydrogenics provides hydrogen generation, energy storage and hydrogen power modules to its customers and partners around the world. Hydrogenics has manufacturing sites in Germany, Belgium and Canada and service centres in Russia, China, India, Europe, the US and Canada.
Featured Product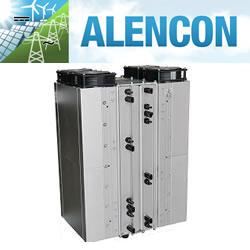 Alencon Systems is the premier manufacturer of high power, high voltage DC:DC optimizers for alternative energy applications including solar, battery energy storage, Microgrids, Fuel Cells and Electric Vehicle charging. Alencon's DC:DC converter offerings include the SPOT, BOSS and CUBE series DC:DC converters. The SPOT is a modular, uni-directional DC:DC solution ideal for solar applications. The BOSS is a modular, bi-directional unit for use with battery energy storage. The CUBE is a monolithic DC:DC converter which is available in both uni-directional and bi-directional modalities. Pictured above, is the Alencon SPOT.