The expansion project included adding 52,500 square feet to the facility and 100 new jobs to the existing workforce.
PRESCOTT, AR – October 8, 2012 - Firestone Building Products Company, LLC (Firestone) today held a ribbon-cutting ceremony at their Prescott, Arkansas EPDM manufacturing plant to celebrate the completion of a $36 million expansion project. Governor Mike Beebe, U.S. Congressman Mike Ross, Firestone senior management and Prescott Mayor Terry Oliver took part in the event. The company also celebrated one million hours worked without a lost-time accident.

"Firestone's decision to stay and expand in Prescott is an investment not only in Arkansas, but in the dedicated workforce that has brought them success here," Governor Mike Beebe said. "We thank Firestone for believing in Southwest Arkansas, and wish them continued prosperity in this expanded facility."
Tim Dunn, president of Firestone Building Products, said, "Two years ago, Firestone celebrated 40 years of operations at the Prescott facility and involvement with the local community. Since 1984, quality EPDM roofing material has been manufactured in Prescott, the largest EPDM manufacturing plant in the world. With the expansion project and the investment we have made in equipment refinements and additions, Firestone is well positioned to supply our customers with superior roofing products for their future construction needs."
"Congratulations to all of the Prescott teammates for working over 1 million hours without a lost-time accident. Safety is of utmost importance to Firestone plant operations, and we appreciate the commitment of our teammates to achieve this accomplishment," said Dunn.
The expansion project included adding 52,500 square feet to the facility and 100 new jobs to the existing workforce. New equipment replacements and updates will help the plant achieve greater energy efficiency and waste reduction.
About Firestone Building Products Company, LLC (www.firestonebpco.com)
Firestone Building Products is a leading manufacturer and supplier of a comprehensive "Roots to Rooftops" portfolio of products for commercial building performance solutions. By taking the entire building envelope into consideration, Firestone tailors solutions to individual customer and project needs for roofing, wall and specialty products systems. Headquartered in Indianapolis, Ind., the company also offers outstanding technical services, an international network of roofing contractors, distributors and field sales representatives, and superior warranty protection. Products include: commercial roofing systems, roofing accessories, green roofing systems, photovoltaic and daylighting systems, vegetative roofing systems, metal wall panels, insulation, cavity wall construction, pond liners and geomembranes and stormwater management solutions.
Featured Product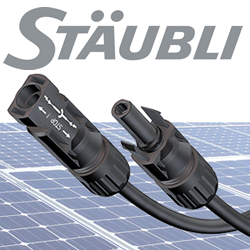 ​Stäubli Electrical Connectors are used on more than 300 GW, over 50% of the PV capacity worldwide. The MC4 family of UL and TUV listed products include connectors, in-line fuses, branch connectors, cable assembly and more.