LEARN • Solar PV economics • Financial justification • Utility rate structures • Local, state, & federal incentives • Sales/Marketing strategies • Best industry practices • Qualifying prospects • Client proposals • Financing options • Calculating/Selling non-financial benefits • Site assessments
AUSTIN, Texas, Oct. 9, 2012 — ImagineSolar announces the debut of their new Online LIVE course PV250e: Online Solar PV Economics & Technical Sales ($995). The Online LIVE course will begin nationwide in the U.S. on Monday, October 15th, 2012, 7-10pm EDT, 6-9pm CDT, 4 -7pm PDT. It will continue every Monday evening through December 10th (excluding Thanksgiving week).

Step onto ImagineSolar's interactive Online Campus with Triple-O LIVE streaming video instruction from Austin, Texas (or attend in person at the ImagineSolar training center).
Online Solar PV Economics & Technical Sales covers solar PV system economics, financial justification, sales and marketing strategies, as well as best business practices used by the industry's most successful professionals and companies.
"This course is designed for entrepreneurs, sales & marketing professionals, electricians, engineers, architects, contractors, builders, remodelers, and all others who want to become solar industry professionals," said ImagineSolar founder Michael Kuhn. "This is the solar PV course to take if you want solar PV industry savvy regarding pricing, business models, the competitive landscape, and customer value propositions."
LEARN HOW TO:
- Qualify prospects & prepare professional client proposals
- Explore client financing options like leasing, refinancing, power purchase agreements (PPAs), PACE programs, and community solar programs
- Justify financial methods to clarify client concerns (ROI, LCOE, Payback Period)
- Calculate, explain and sell non-financial benefits of solar PV systems
- Perform remote & onsite project assessments
- Understand & articulate utility rate structures to promote the value of solar
- Understand local, state & federal solar incentives
- Manage client expectations & satisfaction
PV250e provides an engaging format using interactive sessions, live video instruction, project exercises and case studies.
This course consists of 24 hours of Onsite classroom or Online LIVE interactive sessions and 18 hours of online and project assignments. Participants receive 42 hours of Continuing Education Units (CEUs).
Using the acclaimed Triple-O LIVE Streaming Platform©, ImagineSolar offers customers the most in flexibility:
ALL ONLINE WITH ONLINE LIVE PARTICIPATION:
PV250e can be completed entirely online where you attend the online LIVE sessions from your laptop and access the course materials anytime. Also, the Online LIVE sessions are recorded and archived. You will have access to these in case you miss a session.
OR
ONLINE WITH ONLINE LIVE & ONSITE PARTICIPATION (IN AUSTIN, TX):
Attend all the onsite hours in person with us in our training center or choose when to be onsite and when to attend from your laptop. Again, the Online LIVE sessions are recorded and archived. You will have access to these in case you miss a session.
Call ImagineSolar's Registration Advisors at 888.514.1972 or visit their website for information.
ABOUT IMAGINESOLAR:
ImagineSolar is dedicated to accelerating the transformation of the energy industry through solar and smart grid education, advisory services, and advocacy. They prepare entrepreneurs, engineers, electricians, and everyone else for clean energy careers and industry certifications (NABCEP).
ImagineSolar is a fully licensed Texas Workforce Commission (TWC) school and ISPQ accredited for Continuing Education by the Interstate Renewable Energy Council. Their training is online, onsite and online LIVE. For class availability visit imaginesolar.com or call (888) 514-1972.
Featured Product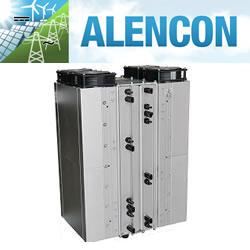 Alencon Systems is the premier manufacturer of high power, high voltage DC:DC optimizers for alternative energy applications including solar, battery energy storage, Microgrids, Fuel Cells and Electric Vehicle charging. Alencon's DC:DC converter offerings include the SPOT, BOSS and CUBE series DC:DC converters. The SPOT is a modular, uni-directional DC:DC solution ideal for solar applications. The BOSS is a modular, bi-directional unit for use with battery energy storage. The CUBE is a monolithic DC:DC converter which is available in both uni-directional and bi-directional modalities. Pictured above, is the Alencon SPOT.