Will Support Massachusetts Technology Incubator in Services & Mentoring for Six Local Cleantech Companies
BEVERLY, Massachusetts, October 5, 2012. North Shore Innoventures, (NSIV) one of New England's leading technology incubators and business accelerators and a member of the Clean Energy Alliance, announced that it has received awards from the Department of Energy Small Business and Clean Energy Alliance Partnership (DOE-CEA Partnership) to provide incubation and specialized services to six of its member companies operating in the cleantech marketplace. The awards total $88,000 and will be paid by the Clean Energy Alliance Partnership to NSIV.

"Each of the cleantech companies benefitting from these awards will bring world-class technology and talent to the marketplace," said Tom Kinneman, Vice President and Chief Operating Officer of NSIV. "We are pleased that they have been recognized by the DOE-CEA Partnership program and that we are providing them with additional help on their road to commercialization."
North Shore InnoVentures operates technology business incubators to nurture innovative early stage companies and support sustained economic growth in the North Shore region. NSIV focuses on cleantech and life sciences, two of the strongest technology clusters in Massachusetts, and provides creative business acceleration services that increase the success rate for early-stage companies and their investors.
The Department of Energy Small Business and Clean Energy Alliance Partnership was created with a $1.2 million grant through the American Recovery and Reinvestment Act to fund commercialization and acceleration services by CEA member incubators to qualifying small cleantech firms. Qualifying firms have previously received federal financial support, such as Small Business Innovation Research (SBIR), Small Business Technology Transfer (STTR) grants, or other Federal awards.
The six companies participating in the grant from the DOE-CEA Partnership program include:
*Energy Compression, www.energycompression.com, is developing an Adsorption-Enhanced Compressed Air Energy Storage (AE-CAES) technology to enable demand-side energy management and renewables integration.
*Save Energy Systems, www.saveenergysystems.com, has developed a turnkey, integrated HVAC management system using a Demand Limiting Controller (DLC) to reduce business energy costs by 10-15%.
*Sol-Solution, www.sol-solution.org, is developing a hybrid non-profit/for-profit business model to put solar panels on schools, helping them to save on their energy bills and to reinvest the savings in STEM (Science, Technology, Engineering, and Mathematics) educational programs.
Teleos Solar, www.teleossolar.com, is developing thin-film manufacturing technology to increase CIGS solar cell efficiency by up to 50% while improving factory throughput by 25%.
*TerraVerdae Bioworks, www.terraverdae.com, is developing an advanced biorefinery platform for converting biomass and greenhouse gas (GHG) emissions from agricultural, industrial or municipal waste streams into high value sustainable bio-based products.
*Vecarius, www.vecarius.com, is developing advanced power and thermal management products to capture and convert waste heat energy lost from vehicles, mobile and stationary generators, and other applications.
"CEA is pleased to be able to support CEA member incubator NSIV in providing the critical support services that can help these six promising clean energy start-ups prosper," said James F. Groelinger, Executive Director of the Clean Energy Alliance. "This is what the DOE-CEA Partnership is all about. We welcome these companies into the Partnership and look forward to watching the impact of this important collaboration during and subsequent to the program."
About CEA
The Clean Energy Alliance (CEA) is a national organization of non-profit incubators with a focus on cleantech commercialization. CEA Members are highly-skilled incubators and accelerators that offer a wide range of expertise and facilities in all areas of clean energy technologies. CEA's mission is to develop and provide to its members practices and resources that support clean energy business incubation, entrepreneurial mentoring and development, and technology commercialization. Nonincubators are also welcome to join CEA. www.cleanenergyalliance.com
About North Shore InnoVentures
North Shore InnoVentures (NSIV) is a non-profit 501(c)(3) business incubator headquartered at the Cummings Center in Beverly, MA, site of a burgeoning cluster of more than sixty life sciences and cleantech businesses. NSIV is dedicated to accelerating the growth of innovative early-stage life sciences and cleantech businesses and supporting the economic growth of Boston's North Shore. Its management, board of directors, advisory board, and mentors bring a wealth of entrepreneurship experience in addition to business development and technical expertise. Further support comes from sponsors who contribute marketing, legal, operational and educational services. http://www.nsiv.org.
Featured Product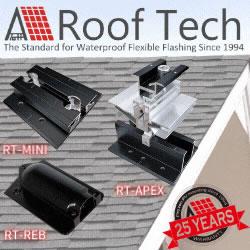 Now Roof Tech brings you the most innovative, watertight mounting systems ever developed for solar photovoltaic systems. Designed and manufactured exclusively for us by Japan's longtime leader in roofing technologies, Roof Tech products are 100% code-compliant and offer fast, simple installation and huge savings on shipping costs due to their compact, rail-less design. Learn more about our full line of versatile PV mounting solutions now available for residential installations. The next generation in rooftop solar mounting solutions."