SEIA and KOPIA initiate partnership to promote solar in Korea and the U.S.
WASHINGTON, D.C. and SEOUL – The Korea Photovoltaic Industry Association (KOPIA) and the Solar Energy Industries Association (SEIA) (U.S.) today announced their formal partnership in an effort to strengthen the solar energy industries of both countries and boost the competitiveness of solar energy globally.

With this strategic partnership, the organizations will work jointly to promote the healthy and sustainable growth of solar energy markets at home and abroad. Specifically, SEIA and KOPIA will work together on communications, events, policy initiatives, and market research to promote the adoption of solar energy.
KOPIA president SangYeol Kim said, "This partnership shows that we are committed to working together to realize the full potential of solar energy. Through our partnership, we will be able to witness the PV industry take off to reach new heights."
"Our partnership with KOPIA will help us to better address complex issues that arise in this global market, while creating new opportunities for collaboration between the solar industries of both nations," said Rhone Resch, president and CEO of SEIA.
Today, solar energy is one of the fastest growing energy technologies in America, employing more than 100,000 Americans who work at more than 5,600 companies located in every state. Cumulative U.S. solar electric capacity now totals more than 5,700 megawatts, enough to power nearly a million American homes. Second quarter growth in 2012 was more than double that of 2011.
Korea has taken steps to increase domestic usage of solar power, but its greatest participation in the market today is as a manufacturer and exporter of solar products to the world's largest solar markets. Large Korean diversified manufacturers such as Hanwha, OCI, LG, and Hyundai, Samsung, among others, have made great strides in recent years to ramp up their investment in solar manufacturing. OCI and Hanwha are active with project development activities within the U.S. today.
About KOPIA:
KOPIA is a non-profit organization developed by the Ministry of Knowledge and the Economy in South Korea. This association was established in 2008 to promote the Korean photovoltaic industry. KOPIA is a trade association that represents all the different facets of the solar industry in Korea. Their goals are to establish the best legal framework to enhance the Korean solar industry, enable solar energy business opportunities with market research and support, increase public interest in new PV technologies, and raise awareness of solar technology by providing the best information possible. Visit KOPIA online at http://kopia.asia/en/.
About SEIA:
Established in 1974, the Solar Energy Industries Association® is the national trade association of the U.S. solar energy industry. Through advocacy and education, SEIA® is building a strong solar industry to power America. As the voice of the industry, SEIA works with its 1,100 member companies to make solar a mainstream and significant energy source by expanding markets, removing market barriers strengthening the industry and educating the public on the benefits of solar energy. Visit SEIA online at www.seia.org.
Featured Product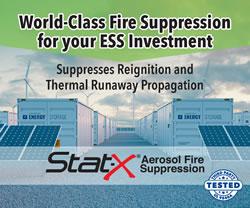 Stat-X® condensed aerosol fire suppression is a solution for energy storage systems (ESS) and battery energy storage systems (BESS) applications. Our Stat-X condensed aerosol fire extinguishing product was tested for efficacy in suppressing li-ion battery fires. It was found that the product successfully extinguished single and double cell battery fires. This testing was conducted in parallel with a large battery fire testing program on behalf of a large energy storage company.