The system will enable the Naval Facilities Engineering Command (NAVFAC) to utilize underwater turbine electricity production technology.
PITTSBURGH … Diversified industrial manufacturer Eaton Corporation today announced it will help to develop an underwater, utility-scale energy generation system for the United States Navy. Eaton is contracted to support the project's land-based engineering, and will develop high-voltage electrical distribution equipment to efficiently convert and transmit safe, reliable alternative energy from the depths of the ocean to Navy shore facilities.

Eaton's participation in the project is in collaboration with privately held marine service providers Eclipse Group Inc., leading underwater construction efforts, and Triton Energy Systems, LLC, leading underwater generation engineering efforts.
The system will enable the Naval Facilities Engineering Command (NAVFAC) to utilize underwater turbine electricity production technology to provide a sustainable source of utility-scale power by capturing power from ocean currents. NAVFAC is the U.S. Navy's engineering command committed to the procurement and maintenance of the Navy's land-based and port facilities.
"Eaton provides an extensive operational footprint across the globe with the ability to rapidly respond to any electrical supply, provisioning, engineering and installation challenge across the full spectrum of the project," said Joan Saint Amour, chief executive officer, Eclipse Group. "This will be crucial for our collaborative effort as our innovational, alternative energy generation model develops within challenging underwater environments."
For the project, Eaton has been designated as an Eclipse qualified partner on a Naval Sea Systems Command (NAVSEA) SEAPORT-E five year contract with a possible capacity in excess of $19 billion.
"This collaboration will help meet the technical challenges associated with high-voltage generation in a saltwater environment, " said Jim Dankowski, manager, Marketing and Business Development, Government Sales and Solutions, Eaton. "It will also promote the commercial viability of deep ocean current alternative energy, which has vast potential to become an established, highly-reliable and efficient source of energy."
The Eaton Electrical Service and Systems (EESS) division will provide land-based engineering service support as well as coordination of long-term operational land-based maintenance. The EESS division will also thoroughly document the project to create a model for future applications of this developing alternative energy model. The division is one of the largest and most experienced teams of power system engineers in the industry with dedicated facilities across the world. Eaton will also dedicate a safety support team to accommodate all aspects of safety system engineering and installation.
Eclipse Group Inc. is a privately-held, woman-owned marine service provider that delivers turnkey solutions for subsea search and recovery, oil and gas support and marine installation for both commercial and government customers worldwide. Eclipse's core operational experience, combined with state-of-the-art assets and geographic reach, provides clients with the resources and expertise they need to successfully complete their worldwide projects in search and recovery, energy, and government/military operations. To learn more about the Eclipse Group, visit www.eclipse.us.com.
Triton Energy Systems, LLC is a privately held small business, led by Patrick Lahey, president, that has a proven track record in building and developing deep ocean submarines and is utilizing it underwater engineering knowledge to develop the one megawatt electric ring generator system that will be used in this project. Triton's state of the art facilities and engineering capabilities, combined with their in-depth understanding of ocean current systems, makes the partnership complete. To learn more about Triton Energy, visit www.tritonsubs.com.
Eaton's electrical business is a global leader in power distribution, power quality, control and automation, power monitoring, and energy management products and services. Eaton is positioned through its global electrical product series and solutions to answer today's most critical electrical power management challenges.
Eaton Corporation is a diversified power management company with more than 100 years of experience providing energy-efficient solutions that help our customers effectively manage electrical, hydraulic and mechanical power. With 2011 sales of $16.0 billion, Eaton is a global technology leader in electrical components, systems and services for power quality, distribution and control; hydraulics components, systems and services for industrial and mobile equipment; aerospace fuel, hydraulics and pneumatic systems for commercial and military use; and truck and automotive drivetrain and powertrain systems for performance, fuel economy and safety. Eaton has approximately 73,000 employees and sells products to customers in more than 150 countries. For more information, visit www.eaton.com.
Featured Product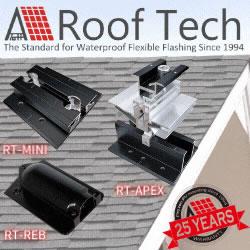 Now Roof Tech brings you the most innovative, watertight mounting systems ever developed for solar photovoltaic systems. Designed and manufactured exclusively for us by Japan's longtime leader in roofing technologies, Roof Tech products are 100% code-compliant and offer fast, simple installation and huge savings on shipping costs due to their compact, rail-less design. Learn more about our full line of versatile PV mounting solutions now available for residential installations. The next generation in rooftop solar mounting solutions."