Industry-First Program Provides Customers Long-Term Value and Lower Total Cost of Ownership for Large-Format Lithium-Ion Energy Storage Solutions
INDIANAP OLIS (October 10, 2012) – EnerDel, Inc., a leading manufacturer of advanced lithium-ion batteries and energy storage systems, today announced a new program that provides customers with a Guaranteed Residual Value (GRV) for its products of up to 25 percent.The industry-first offering applies the residual value toward the price of a replacement system after a predetermined period of service in the field.

"Two questions facing the lithium-ion industry are how to make our products more affordable and how to help customers resolve what to do with their products once they're ready to be replaced. The guaranteed residual value program answers both of these questions, ultimately giving our customers greater certainty and peace-of-mind through our complete lifecycle approach," stated David Roberts, CEO, EnerDel."The high quality and unique serviceability of our products gives us the opportunity to guarantee the residual value of our products, effectively leveraging what we know are differentiating features over our competition.While competitors are trying to figure out how to reduce the price of their recycling service, we're telling customers that they don't have to worry about maintenance, disposal, or recycling at all."
Customers that take advantage of the program will receive the benefit of having a product that continues to provide long-term economic value by applying the amount of the residual value to a new or re-manufactured product, thereby reducing the overall cost of ownership.The complete process will be managed through EnerDel's service and aftermarket team to ensure the state-of-the-health of the product throughout its life.
"If you've ever leased a car or traded in your car battery for a new one, you'll understand the concept behind this service," stated Tomasz Poznar, director of EnerDel's global services and aftermarket group. "When you're ready to replace your car or battery, you can apply the residual value to the price of a new product. We think it should be the same for lithium-ion batteries, so we're delivering the same concept with EnerDel's GRV service.Although competitors may try to mimic our service, none of them has the quality and serviceability to enable them to effectively execute."
The GRV service will initially be available in North America and Europe.Customers will be required to maintain EnerDel's Assurance+ extended warranty program, which includes maintenance, monitoring and recycling of the product.The actual residual value for a given product will be based upon the product's application, number of duty cycles, and time in the field.
About EnerDel
EnerDel, Inc. is a privately-held company headquartered in Indianapolis, Ind.It manufactures advanced, lithium-ion batteries and energy storage systems for electric utility, transportation and industrial applications. The company's prismatic cell design and modular stacking architecture combine to provide customers with production-ready solutions that address their power and energy storage needs.For additional information, visit www.EnerDel.com.
Featured Product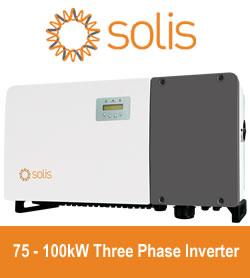 Solis75kW - 100kW series high-power string inverters are widely used in industrial and commercial rooftops. Solis's new three-phase string inverter is the first choice for industrial and commercial photovoltaics. 75-100kW three phase series string inverter have Maximum 28 strings input, support "Y" type connection in DC side. Maximum string input current 13A, support bifacial modules access.Supports anti-PID function to improve system efficiency.