International strategy meeting of 40 European policy makers and experts calls upon national governments
Hurup Thy/ Hamburg, 10 October 2012: High citizen participation and regional value creation from decentralised renewable energy production are the success factors of the German and Danish move towards achieving 100 per cent renewable energy. People, communities and regions are therefore the driving force of the biggest transformational process in Europe since the invention of the steam engine. This was the conclusion of a strategy meeting organised by the World Future Council and the Climate Service Center (CSC) at the Helmholtz-Zentrum Geesthacht, at which 40 policy makers and experts from 15 European countries as well as Canada came together at the Nordic Folkecenter, Denmark in order to confer on political instruments and implementation possibilities for a Europe-wide energy transition.

In order to achieve the internationally agreed climate change targets – such as the 2-degree target – one of the most pressing societal challenges is the conversion of our energy system towards a more sustainable, environmentally friendly and efficient use of energy. Thereby the choice and design of environmental policy instruments will play a crucial role. Equally important are the stakeholders that are responsible for implementing these instruments. Thus especially European regions should commit themselves to a sustainable energy policy since it can make a major contribution to local economic development.
"In order to see developments in Europe similar to those we have experienced in Germany and Denmark we need national political frameworks that enable citizens and municipalities to profit from this transition," says Preben Maegaard, Director of the Nordic Folkecenter and President of the World Wind Energy Association. "Powering a region with 100 per cent renewable energy has been technically and economically feasible for a long time. But what is urgently needed are enabling political frameworks - such as the German EEG - as well as the combination of the electricity and heat sector."
Denmark and Germany are perceived as role models in transforming the energy sector. The price per kilowatt-hour for electricity from community-owned wind parks is not only competitive with conventional power production, but is actually half the price of electricity from off-shore wind parks. Germany increased its total electricity share from 3 per cent to more than 20 per cent within the last decade. The vast majority of the investments were made by co-operatives and small- and medium-sized companies. The renewable energy sector employs 370 000 people in Germany.
"Most people are worried about increasing energy costs and ask how they can make profits from an energy transition," says Stefan Schurig, Director Climate Energy of the World Future Council. "Public participation is the key to the acceptance of new infrastructure projects which again is crucial for the pace of the transition."
John Wilson, Member of the Scottish Parliament stresses: "There are numerous good examples in Europe where regions and countries have set sail for 100 per cent renewable energy while ensuring participatory citizen involvement. I hope that the World Future Council will continue to facilitate this kind of dialogue so that Scotland can learn from the invaluable experiences of other European countries."
More information on this event can be found in our blog posts: www.power-to-the-people.net.
World Future Council
The World Future Council brings the interests of future generations to the centre of policy-making. Its 50 eminent members from around the globe have already successfully promoted change. The Council addresses challenges to our common future and provides decision makers with effective policy solutions. The World Future Council is registered as a charitable foundation in Hamburg, Germany. For further information visit www.worldfuturecouncil.org.
Featured Product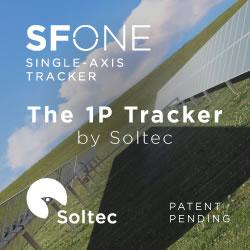 SFOne is the 1P single-axis tracker by Soltec. This tracker combines the mechanical simplicity with the extraordinary expertise of Soltec for more than 18 years. Specially designed for larger 72 an 78 cell modules, this tracker is self-powered thanks to its dedicated module, which results into a lower cost-operational power supply. The SFOne has a 5% less piles than standard competitor, what reduces a 75% the labor time.