The SolarBridge ACPV Revolution Roadshow kicks off November 1, 2012 in SolarBridge's hometown of Austin, Texas
Austin, Texas (October 10, 2012) – SolarBridge Technologies (SolarBridge), the leading provider of integrated microinverters for certified AC modules, announces its U.S. ACPV Revolution Roadshow. This first-of-its-kind industry event will offer free NABCEP-accredited ACPV technology training, a close-up view of AC module installation procedures and a hands-on experience for installers implementing the fast-growing rooftop solar solution.

The SolarBridge ACPV Revolution Roadshow kicks off November 1, 2012 in SolarBridge's hometown of Austin, Texas, with stops across the U.S. through March. New AC modules from SolarBridge strategic partners will be featured in the training including: BenQ Solar (AUO), NESL, Talesun Solar, Eoplly and AMD. The event will give local solar installers in some of the fastest growing U.S. solar markets an opportunity to see the latest AC modules, interact with new software monitoring tools and compete in an installation "bake-off" for prizes at each tour stop. The NABCEP training will be provided in partnership with Ontility, a leading provider of solar training and education.
"The launch of our national roadshow is the next step in the mainstream adoption of ACPV," said Ron Van Dell, president and CEO, SolarBridge Technologies. "Our partners look to us as the premier brand in microinverters and offer differentiated AC module solutions because they trust our technology, our highly reliable design, as well as our testing and certification standards."
As AC modules powered by SolarBridge Pantheon™ microinverters become widely available in the marketplace, it is important for contractors, installers and electricians to understand how the process differs from traditional PV installations. With factory-integrated microinverters, AC modules reduce installation time up to 50 percent over detached microinverters and produce grid-compatible power with no separate inverter or DC components to install. AC modules are the simplest, most flexible and lowest, long-term cost solution for rooftop PV installations. Backed by a full, 25-year warranty, the SolarBridge AC Module System eliminates the need for costly string inverter replacements and significantly reduces ongoing maintenance costs.
"This is an entirely new installation paradigm that makes solar installation easier than ever before," Van Dell added. "That in itself will help grow the workforce for solar installations and provide an important boost for solar in the U.S."
The Installation Bake-Off will be held at each roadshow tour stop and will allow installers to compete in a timed, AC module system installation of SolarBridge versus other technologies.
To register for the SolarBridge ACPV Revolution Roadshow, visit http://solarbridgetech.com/roadshow.
The tour will stop in these cities as it travels across the continental U.S. and Hawaii:
Date City
11/1 Austin, TX
11/7 Boston, MA
11/8 Long Island, NY
11/9 Teterboro, NJ
11/13 Raleigh, NC
1/22 Honolulu, HI
1/31 Albuquerque, NM
2/5 Phoenix, AZ
2/7 Los Angeles, CA
2/12 San Francisco, CA
2/14 San Diego, CA
2/19 Denver, CO
2/21 Dallas, TX
2/26 New Orleans, LA
3/5 St. Louis, MO
3/12 Chicago, IL
About SolarBridge Technologies
SolarBridge Technologies, a leader in integrated microinverter technologies for the solar industry, is accelerating the adoption of solar energy in residential and commercial applications. The SolarBridge AC Module Systemófeaturing the SolarBridge Pantheon II microinverter, Power Manager and Power Portalódramatically increases the efficiency and reliability of PV systems, while reducing the levelized cost of energy. The SolarBridge microinverter matches the lifetime of solar modules, enabling module manufacturers to provide a 25-year warranty on AC modules. The company is headquartered in Austin, Texas. For more information, visit www.solarbridgetech.com.
Featured Product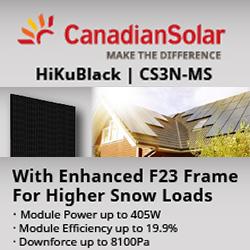 Aesthetic appearance for residential systems: With black backsheet & black frame, Power range 380 ~ 405 W, Low power loss in cell connection. Enhanced reliability: ¬∑ Low temperature coefficient (Pmax): -0.34 % / ¬įC, LID LeTID less than 2.0%, Lower hot spot temperature, Better shading tolerance.