To seven solar power plants throughout Italy
Bernin, France, October 11, 2012 — Soitec (Euronext), a world leader in generating and manufacturing revolutionary semiconductor materials for the electronics and energy industries, has completed delivery on a total of 5 megawatts* (MW) of its Concentrix™ concentrating photovoltaic (CPV) systems to seven solar power plants throughout Italy. This latest sales news follows Soitec's announcement in June that it had completed construction of a solar facility in the Catania province in Sicily. These system deliveries to multiple customers expand Soitec's solar system installations to more than 10 MW worldwide.

"Our proven CPV technology provides the highest power-generating efficiency, making it a perfect match for Italy's solar initiatives," said José Beriot, vice president Solar Projects Development of Soitec's Solar Energy division. "With Soitec's high-quality modules being very well received in Italy and with our office in Rome providing direct customer support and developing new business opportunities, we are building momentum in the growing Italian market for renewable-energy solutions."
"We are committed to have a competitive offering in Italy and we are currently looking into integrating more and more local content," Bériot added. "Soitec's industrial manufacturing capacity and supply chain in Europe, with its fully automated solar-module factory in Freiburg, Germany, has proven to be a reliable and flexible infrastructure to ensure competitiveness and security of supply in Europe."
Soitec's CPV technology combines the industry's highest power-generating efficiency of up to 30 percent with low installation and maintenance costs, making it the most cost-efficient solution for high-volume power generation in regions such as Italy with high direct normal irradiation (DNI). Using high-performance optics, high-efficiency cells and precise tracking to ensure maximum power generation, Soitec's CPV systems deliver advantages not available with any other solar technology approaches. Each CPV system produces a high, constant power output curve to match peak-load demands – a key performance need for power utilities. System efficiency does not degrade with temperature, remains stable over very long periods of time and provides environmental sustainability.
* Of which 3.3 MWp are recognized as revenue in the company's financial second quarter.
About Soitec
Soitec is an international manufacturing company, a world leader in generating and manufacturing revolutionary semiconductor materials at the frontier of the most exciting energy and electronic challenges. Soitec's products include substrates for microelectronics (most notably SOI: Silicon-on-Insulator) and concentrator photovoltaic systems (CPV). The company's core technologies are Smart Cut™, Smart Stacking™ and Concentrix™, as well as expertise in epitaxy. Applications include consumer and mobile electronics, microelectronics-driven IT, telecommunications, automotive electronics, lighting products and large-scale solar power plants. Soitec has manufacturing plants and R&D centers in France, Singapore, Germany and the United States. For more information, visit: www.soitec.com.
Featured Product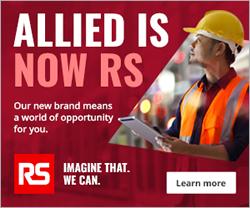 Based off the design pioneered by Anderson in 1953, the two pole SB® connectors set the standard for DC power distribution and battery connections. SB connectors feature a rugged one-piece plastic housing using stainless steel springs to retain the contacts and create the "contact force" that provides extremely low resistance enabling greater electrical efficiency. The SB connectors are also genderless (flip one 180 degrees and they will mate to each other) reducing the customer's bill of materials and providing greater economies of scale when purchasing. The SB series of connectors range in size from SB50 to the SB350. Each family size offers color-coded, mechanically keyed housings designed to prevent both visually and physically cross-mating devices with different voltages. All the connectors are UL rated to 600 volts, so the keys and colors are just identifiers to prevent accidents. Contacts are traditionally Silver plated to minimize electrical resistance while offering supreme durability and reliability.