The number of projects on the continent has quadrupled from that of 10 years ago
Africa continues to provide opportunity and attract project investors from around the world. The International Monetary Fund forecasts Sub-Saharan African growth at 4,8% which compares favourably with the world average of 3,3%. The number of projects on the continent has quadrupled from that of 10 years ago and the quality of projects has improved substantially.

Paul Runge – Managing Director of specialised consulting firm Africa Project Access will be heading a round table discussion on the last day of the upcoming Africa Energy Indaba on 21 February 2013– opening up the floor for discussion on major energy greenfields and brownfields projects on the continent. According to Runge "the discussion will have a business focus and will also be very practical. We will look at projects from the ground up and talk about where things are headed. We will talk about key role players in the African energy sector including utilities, development finance institutions and technical assistance agencies that are able to help African companies and projects throughout the Sub-Saharan region." says Runge.
Joining Runge in the roundtable discussion will be role players in some of these projects such as the dynamic power initiatives in Mozambique and Ethiopia's hydro-power programme – currently the biggest hydropower project in Africa. The roundtable discussion will bring together Africa's energy operators, financers and other important role players in the project food chain. "It will be a great opportunity to learn of new and exciting projects and opportunities as well as network", says Runge. Templates of specific projects will also be made available to those attending.
The Africa Energy Indaba will take place at the Sandton Convention Centre in Johannesburg from 19-21 February 2013.
The Africa Energy Indaba brings together more than 300 senior level energy sector experts and decision –makers. Over 100 leading energy suppliers will also be present at the annual conference showcasing their latest technologies, equipment and services.
Delegates attending the Africa Energy Indaba 2013 are also invited to attend and take part in the roundtable discussion.
Paul Runge has 30 years' experience assisting companies to access business and projects in Africa. He has developed a practical rationale and methodology that will be of value to companies and organisations and organisations wishing to diversify their portfolio into Africa. His company Africa Project Access supplies approximately 110 companies and organisations with early alerts on projects across a broad range of sectors on the continent.
As a former diplomat Runge has useful background knowledge on the political and business landscape of the countries he conducts business in – a value add for the clients who seek his services.
Runge has lived in Gabon and supervised projects in the Cape Verde Islands, has spent six years with the South African Foreign Trade Organisation and has led many of the first South African business delegations into other African countries following the end of international sanctions against South Africa.
Runge has also published a book Potholes & Profits: Business (& other) Conversations and Experiences from Africa which is an anecdotal account of his experiences in a number of African markets.
More information on Africa Energy Indaba 2013:
The 2013 forum is set to be the Energy Indaba's most influential and its programme will offer some exciting new additions, says Hart. "Delegates can look forward to added participation from energy representatives from across Africa, increased side events such as the Annual Nuclear Forum, the Africa Energy Projects Roundtable and a Transport in Energy panel discussion." The committee has also increased the length of each breakaway session to add more time for added debate and interaction.
Background to the Africa Energy Indaba:
Professional, technical and organisational leadership has been at the core of the AEI since its inception in 2009. Based on its track record, the 3-day conference and exhibition event was officially adopted by the World Energy Council (WEC) as the African regional event of the WEC in 2011 and it receives global recognition as the foremost event for energy professionals on the Continent. It was the first event of its kind to use an expert steering committee in its planning and preparation.
The conference continues to grow and has become the foremost forum for debating and exchanging solutions to Africa's energy challenges and focuses on: African power suppliers; alternative and renewable energies; oil and gas; the legal and regulatory framework, and investment opportunities in African energy projects, to name a few. The exhibition has become a significant marketplace for African and international stakeholders doing business in Africa's energy sector.
The side events on the 21st February 2013 comprise the: Nuclear Forum / Africa Energy Projects Roundtable / Transport in Energy panel discussion.
About the World Energy Council www.worldenergy.org
About SANEA www.sanea.org.za
About the Africa Project Access http://www.africaprojectaccess.co.za/
Featured Product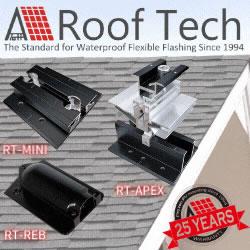 Now Roof Tech brings you the most innovative, watertight mounting systems ever developed for solar photovoltaic systems. Designed and manufactured exclusively for us by Japan's longtime leader in roofing technologies, Roof Tech products are 100% code-compliant and offer fast, simple installation and huge savings on shipping costs due to their compact, rail-less design. Learn more about our full line of versatile PV mounting solutions now available for residential installations. The next generation in rooftop solar mounting solutions."