Landmark Unit Going to CEZ Romania for Fantanele Project----- 2.5-Megawatt Technology Also Powering Shepherds Flat, Largest U.S. Wind Farm----- Fleet Has Surpassed 2 Gigawatts of Global Installed Capacity
TORONTO—October 15, 2012—GE (NYSE: GE) today announced the installation of its 1,000th advanced technology 2.5-megawatt (MW) series wind turbine. The milestone unit is going to CEZ Romania for use in the 600-MW Fantanele/Cogealac wind farm, Europe's largest onshore wind project, GE reported at CanWEA 2012.

Earlier this year, GE announced its fleet of 2.5-MW series wind turbines had surpassed 2 gigawatts of installed capacity worldwide, enough clean electricity to power approximately 1.4 million European households. Today, these machines are operating in 19 countries worldwide, including 14 countries in Europe, and have achieved more than 7 million hours of commercial operation.
"Today's milestone demonstrates the strong global acceptance of the 2.5-MW family of wind turbines," said Victor Abate, vice president of renewable energy at GE. "We will continue to work with our customers as we invest in the next generation of wind turbine technology to power the world into the future."
GE shipped its first 2.5-MW series wind turbines in 2005 in Germany for the Okeler Bruch project being developed by Windstrom Nord GmbH und Co Okeler Bruch KG; and for the Herzfelde project being developed by Eilers Windkraft GmbH und Co KG.
An evolutionary product, the 2.5 series includes the 2.5-88, 2.5-100, 2.5-103, 2.75-100 and 2.75-103 models, offering high efficiency and reliability for a broad range of wind conditions. These machines feature larger rotors, higher towers and greater hub heights than previous models, resulting in greater power output.
GE has supplied 240 2.5-MW series wind turbines for phases 1 and 2 of the Fantanele/Cogealac wind park project in Dobrogea, Constanta County, Romania, which is one of the most promising wind power regions in the country. The project owner, CEZ Romania, is part of CEZ Group, the largest utility in Central Europe.
"We are pleased to receive GE's 1,000th 2.5-MW series wind turbine, a milestone for GE and for the industry," said Martin Zmelik, COO of CEZ Romania. "This technology is proven in applications worldwide and offers the efficiency, reliability and output necessary to make the CEZ Wind Farms in Fantanele/Cogealac a successful and profitable endeavor. This is a very important project, helping Romania reach its E.U. commitment to increase the amount of renewable sources, including wind, in the country's energy mix."
In addition to Fantanele/Cogealac, GE's 2.5-MW series wind turbines are powering another of the world's largest wind projects, the 845-MW Shepherds Flat wind farm in Oregon, developed by American power company Caithness Energy. This project, featuring the first use of the 2.5-MW technology in the United States, is capable of supplying clean electricity for approximately 235,000 U.S. households.
Featured Product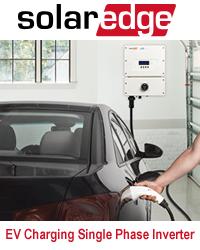 The SolarEdge PV inverter combines sophisticated digital control technology with efficient power conversion architecture to achieve superior solar power harvesting and best-in-class reliability. The fixed-voltage technology ensures the solar inverter is always working at its optimal input voltage over a wider range of string lengths and regardless of environmental conditions. A proprietary data monitoring receiver has been integrated into the inverter and aggregates the power optimizer performance data from each PV module. This data can be transmitted to the web and accessed via the SolarEdge Monitoring Portal for performance analysis, fault detection and troubleshooting of PV systems.