Reflecting 900MW Kunitomi factory's increase in efficiency
Tokyo, October 16, 2012 – Solar Frontier will suspend production at its 60MW "MP2" solar module manufacturing plant as its 900 MW flagship Kunitomi plant continues to demonstrate improved performance. The company is evaluating the role MP2 will play in opportunities to produce specialized solar products currently in development. The Kunitomi plant commenced commercial production in February 2011 and all lines at the plant were operational by July 2011. The advanced plant now produces CIS solar modules with efficiencies in the 13-14% range, delivering more kilowatt-hours per Watt than competing technologies like crystalline silicon modules. Solar Frontier panels are designed to offer more reliable and lower cost of electricity than competing technologies like crystalline silicon panels.

The MP2 plant, which provided much of the knowledge base for the design efficiencies of Solar Frontier's Kunitomi plant, has operated since 2009. The MP2 facility is currently being evaluated for future opportunities to produce specialized solar modules being developed at Solar Frontier's Atsugi Research Center for new and unique applications. Employees will transfer their skills from MP2 to the Kunitomi plant and to sales engineering roles.
"Solar Frontier's staff at the MP2 plant have done a tremendous job for the company," said Shigeaki Kameda, President of Solar Frontier. "They are a great resource of knowledge and expertise that will continue to help Solar Frontier grow. The Kunitomi plant is the largest solar module manufacturing facility in Japan, and Solar Frontier is the only solar panel manufacturer in the world with production exclusively in Japan. And with the heightened demand for solar in Japan, Solar Frontier is extremely well positioned with its combination of local manufacturing and skilled staff. Solar Frontier offers unique and significant advantages with made-in-Japan quality the world has come to trust."
"The knowledge base we have in our MP2 staff will contribute to Solar Frontier's progress beyond R&D and manufacturing," said Atsuhiko Hirano, Solar Frontier Senior Vice President. "Solar Frontier is expanding on its leadership in the downstream market as part of its mission to deliver the most economical, ecological solar energy solutions on Earth."
About Solar Frontier
Solar Frontier K.K., a 100% subsidiary of Showa Shell Sekiyu K.K. (TYO:5002) ("Solar Frontier"), has a mission to create the most economical, ecological solar energy solutions on Earth. Building on a legacy of work in solar energy since the 1970s, Solar Frontier today develops and manufactures CIS (denoting copper, indium, selenium) thin-film solar modules for customers in all sectors around the world. Solar Frontier's gigawatt-scale production facilities in Miyazaki, Japan, integrate compelling economical and ecological advantages into every module: from lower energy requirements in manufacturing to the higher overall output (kWh) of CIS in real operating conditions. Solar Frontier is headquartered in Tokyo, with offices in Europe, the U.S.A., and the Middle East. Visit www.solar-frontier.com for more information.
Featured Product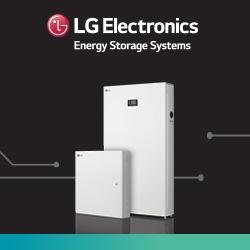 Meet LG Electronics Home 8 Energy Storage System (ESS), a whole home battery backup solution built with installers and their homeowner customers in mind. The ready-to-deploy Home 8 features just one SKU and a modular assembly for fast installation. It can be AC-coupled or solar-powered and is engineered with a grid-connected inverter, four battery modules, and a Smart Energy Box featuring a 7'' LCD touchscreen with commissioning wizard for easy setup. Each Home 8 unit can store up to 14.4 kWh of usable power, helping homeowners gain pure independence from the grid. Plus, installers can connect up to four units, bringing customers up to 57.6 kWh of total backup power-all easily managed and monitored through intuitive mobile apps.