New PV benchmarking services give leasing companies, installer and financing networks and monitoring companies affordable, consistent performance baselines without the need for onsite hardware
Kirkland, Wash., Oct. 17, 2012 – Clean Power Research' (www.cleanpower.com) today introduced SolarAnywhere® SystemCheck™ services that provide consistent, real-time PV performance baselines for cost-effective management of distributed PV fleets. With SystemCheck, residential leasing companies, installer and financing networks, and monitoring companies have, for the first time, a reliable, affordable alternative to onsite measurement equipment for comparing expected system performance to actual performance. As a result, third-party owners are able to optimize operation of their distributed residential and commercial PV resources to maximize energy production and return on investment, and monitoring companies are able to offer new, lower-cost benchmarking features to their customers.

"When it comes to optimizing PV power production, it's not enough to know how much power a system is producing," said Jeff Ressler, president of Software Services at Clean Power Research. "You also need to know how much it should be producing based on the location, system specifications and actual solar resource at any given time. Clean Power Research is uniquely positioned to provide both the consistent, high-quality irradiance data and system-specific power generation data needed to benchmark performance. SolarAnywhere SystemCheck makes it possible to cost-effectively track and manage performance of a single system or distributed fleets – whether located down the street or across the country – and take corrective action when needed to get the most out of PV investments."
SystemCheck provides a real-time feed of modeled PV system production via an application programming interface (API) for use in custom-software solutions. Production is calculated using SolarAnywhere® irradiance data and a PV production model based on work done at Sandia National Labs. With SystemCheck, users can:
* Access an affordable, reliable data source – A cost-effective option to on-site irradiance or meteorological measurement hardware that must be purchased, installed and maintained.
* Benchmark production against a consistent source – Accurately benchmark to a consistent data source that is not subject to onsite equipment variations caused by miscalibration, soiling or shading.
* Track performance to real-time production values or project revenues – In addition to accessing real-time power generation data for performance benchmarking, SystemCheck users can utilize SolarAnywhere typical year data to project future revenues for planning and reporting.
* Get industry-leading irradiance data accuracy – Third-party research confirms that SolarAnywhere satellite-derived irradiance data leads the industry in accuracy, making it the trusted source of time-series data for utility scale developers and independent engineering firms for bankability studies. In addition, SolarAnywhere irradiance data accuracy is comparable to on-site hardware accuracy, which studies have shown can vary with equipment make and model; ancillary weather conditions such as temperature and placement; and maintenance issues such as calibration, soiling and shading.
SolarAnywhere SystemCheck's First Customer
DECK Monitoring is the first company to offer comprehensive benchmarking analytics within its solar monitoring solutions utilizing SystemCheck.
"DECK Monitoring's leadership in the North American market is the result of its focus on providing innovative and cost-effective solutions," said Ressler. "Clean Power Research is excited that DECK selected SolarAnywhere SystemCheck as the data and simulation engine for their new benchmarking capabilities that will give their PV end-users, integrators and developers reliable tools for managing their PV resources directly from DECK's online solar monitoring portal."
About Clean Power Research
Clean Power Research provides software, research and consulting services to power intelligent energy decisions. Solar prediction, economic valuation and program optimization products make it simple for customers to get fast, accurate, location-specific information about the energy, economic and environmental impact of their distributed energy projects. Utilities, government, state energy offices, engineers, developers, manufacturers, installers and financiers rely on Clean Power Research for project siting, planning and operations, incentive program management, and distributed energy sales tools. Founded in 1998, the company has offices in Napa, Calif., and Kirkland, Wash. For more information, visit www.cleanpower.com.
Featured Product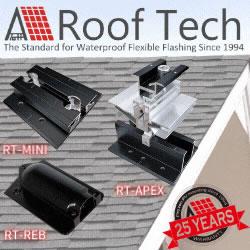 Now Roof Tech brings you the most innovative, watertight mounting systems ever developed for solar photovoltaic systems. Designed and manufactured exclusively for us by Japan's longtime leader in roofing technologies, Roof Tech products are 100% code-compliant and offer fast, simple installation and huge savings on shipping costs due to their compact, rail-less design. Learn more about our full line of versatile PV mounting solutions now available for residential installations. The next generation in rooftop solar mounting solutions."