New Northeast Consortium Tasked With Developing Perennial Biomass Feedstock Production Systems
Hillsborough, N.J. (Oct. 16, 2012) - As part of its continued effort to drive the commercialization of alternative fuels, Primus Green Energy Inc. an alternative fuel company based in Hillsborough, N.J., has signed on to the Northeast Woody/Warm-season Biomass Consortium (NEWBio) as an industry collaborator, providing technical insight to the group as it develops perennial feedstock production systems and supply chains for biomass feedstocks.

NEWBio will focus on the development of four large demonstration projects throughout the Northeast operating at commercial scales of thousands of acres to produce between 500 and 1,200 tons per day of lignocellulosic biomass suitable for alternative fuel production. Plant scientists will work to improve the ability of crops to grow on marginal lands and to resist insects and disease, with a goal of increasing yields by 25 percent and reducing costs by 20 percent.
"The development of a cost-effective and sustainable biomass supply chain for alternative fuels is an important goal, even more so in a time when petroleum-based fuels are increasingly prone to price volatility and supply uncertainty," said Robert Johnsen, CEO of Primus Green Energy. "With our own alternative fuel technology moving steadily toward commercialization, we look forward to lending our technical knowledge and working with the consortium to develop a robust biomass feedstock ecosystem right here in the Northeast."
Primus Green Energy is the developer of a syngas-to-gasoline (STG+) technology that converts syngas derived from natural gas and/or biomass into jet fuel, high octane gasoline and aromatic chemicals through a proprietary version of a proven catalytic fuel synthesis process. The fuels produced from the Primus STG+ technology are virtually indistinguishable from the same fuels produced from petroleum. They can be used directly in engines as a component of standard fuel formulas and do not require costly engine modifications, overhauls of the fuel delivery infrastructure or changes in consumer behavior.
The company has already produced gasoline at its pilot facility in Hillsborough, N.J., and is currently in the process of completing a demonstration plant, also at its Hillsborough complex. The company expects to break ground on its first commercial plant in 2013, which will be designed to produce over 20 million gallons of jet fuel annually from natural gas.
Led by Penn State's College of Agricultural Science and supported by a nearly $10 million grant from the U.S. Department of Agriculture's National Institute of Food and Agriculture, other consortium partners include eight universities based in the Northeast, the USDA's Eastern Regional Research Center, the U.S. Department of Energy's Oak Ridge National Laboratory and Idaho National Laboratory. The consortium includes eight other industrial collaborators, though Primus is the only advanced alternative fuel company of the group.
About Primus Green Energy Inc..
Headquartered in Hillsborough, N.J., Primus Green Energy has developed an innovative renewable drop-in fuel technology that produces high-octane gasoline or jet fuel that can be used directly in engines as a component in standard fuel formulas without costly engine modifications or changes to the fuel delivery infrastructure. The Primus Green Energy technology is a proprietary version of proven commercial technologies to convert herbaceous crops and woody biomass and natural gas to liquid transportation fuels such as gasoline, diesel and jet fuel. Primus Green Energy's technology has recorded the highest conversion efficiency rate in the industry. Primus Green Energy is funded by IC Green Energy, the renewable energy arm of publicly traded Israel Corp. For more information, visit www.primusge.com.
Featured Product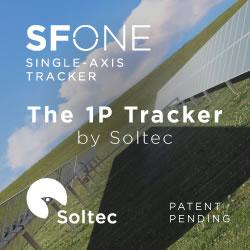 SFOne is the 1P single-axis tracker by Soltec. This tracker combines the mechanical simplicity with the extraordinary expertise of Soltec for more than 18 years. Specially designed for larger 72 an 78 cell modules, this tracker is self-powered thanks to its dedicated module, which results into a lower cost-operational power supply. The SFOne has a 5% less piles than standard competitor, what reduces a 75% the labor time.