(October 17 2012, Newport Beach, CA) The Solar Power Generation USA Awards Recognize Projects and Breakthroughs Leading the Next Stage of solar in the US
Returning for the 2nd year, the Solar Power Generation USA awards recognize and reward excellence in the field of solar power generation in the US. The winners will be announced at the official Solar Power Generation USA awards ceremony taking place on the evening of January 15 2013 following the Solar Power Generation USA conference and exhibition.

Held in the beautiful Newport Beach surroundings, the awards will bring together the US solar value chain for a fun filled evening of networking, drinks and music.
Now is the chance to have your say! Who do you think has contributed the most to the US solar industry in 2012?
The awards categories are:
Best Sollar Collaboration
Best Solar Project in 2012
Most Innovative US Solar Company
To nominate please click here: http://bit.ly/PRawards
Or email amber.williams@greenpowerconferences.com with the following information
• Your contact details
• The category you are entering
• The name of the company, project or collaboration you are submitting
• A short description of the reasons for you nomination
The deadline for nominations is Friday 16 November 2012.
All nominations will be assessed by our expert advisory board and a shortlist will be announced in early December.
The awards are held alongside the 5th annual Solar Power Generation (SPG) USA conference and provide a fantastic opportunity to raise the profile of the key achievements in the US solar industry. Presented in front of Solar Power Generation USA's audience of 500 leaders from utility, solar and finance sectors and attended by trade and industry press, the 2nd Annual Solar Power Generation Awards will be a fun filled evening for all.
To download the preview brochure for the conference and awards please visit www.solarpowergenerationusa.com
Featured Product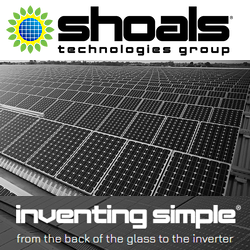 Inventing Simple® isn't just a slogan to us, it's a way of life. Using simple plug-and-play ideology, we revolutionized solar installations in 2003 with our Interconnect System™. Our harnessing system is now the gold standard EPC's use around the world. By using simple ideas, we are making solar energy a more affordable and clean power source for future generations.