NAPERVILLE, Ill.--Broadwind Energy, Inc. (NASDAQ: BWEN) announced today that it has been awarded tower orders totaling approximately $37 million from two U.S. wind turbine manufacturers, for manufacture beginning in late 2012 and extending well into 2013. The towers will be produced in the Company's Manitowoc, WI facility.

Peter C. Duprey, president and CEO of Broadwind Energy, Inc., stated, "The market for wind towers in the U.S. is coming into balance. Due to the pending expiration of the Production Tax Credit and the wind tower trade case, a number of competitors, both foreign and domestic, have exited the market or repurposed some of their production assets. This has improved the balance between supply and demand. In 2011, we at Broadwind committed to broadening our customer base and continued to invest in the North American wind tower market. As a result of these efforts, we are now the second largest tower manufacturer in the U.S. and we are winning new business for 2013 despite the regulatory uncertainty in Washington."
Duprey concluded, "These towers will support more complex turbine designs, which are well-suited to the equipment at our Manitowoc plant and our skilled workforce and welding capabilities. We remain committed to wind tower production and to supporting customer demand for towers by leveraging our core competency in welding and our unique combination of experience, location and flexibility."
About Broadwind Energy
Broadwind Energy (NASDAQ: BWEN) applies decades of deep industrial expertise to innovate integrated solutions for customers in the energy and infrastructure markets. From gears and gearing systems for wind, oil and gas and mining applications to wind towers, to comprehensive remanufacturing of gearboxes and blades, to operations and maintenance services, and industrial weldments, we have solutions for the energy needs of the future. With facilities throughout the U.S., Broadwind Energy's talented team of 800 employees is committed to helping customers maximize performance of their investments—quicker, easier and smarter. Find out more at www.bwen.com.
Featured Product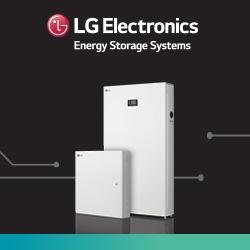 Meet LG Electronics Home 8 Energy Storage System (ESS), a whole home battery backup solution built with installers and their homeowner customers in mind. The ready-to-deploy Home 8 features just one SKU and a modular assembly for fast installation. It can be AC-coupled or solar-powered and is engineered with a grid-connected inverter, four battery modules, and a Smart Energy Box featuring a 7'' LCD touchscreen with commissioning wizard for easy setup. Each Home 8 unit can store up to 14.4 kWh of usable power, helping homeowners gain pure independence from the grid. Plus, installers can connect up to four units, bringing customers up to 57.6 kWh of total backup power-all easily managed and monitored through intuitive mobile apps.