AA American provide customers with ultra efficient products Heating and Standard AC Omaha that are environment friendly to minimize its effects on environment for the better future of the world shared by everyone.
With the growing awareness among the consumers, AA American has taken excellent steps to protect our environment and our future. Standard Ac Omaha has been a leader in protecting our environment voluntarily by reducing the eliminating the use of ozone damaging CFC's and HFC's. This is not the time to go deaf on environmental issues, but take initiative in making difference in protecting our environment but not at the cost of comfort, modern amenities or healthy lifestyle.

The CFC's found in residential refrigerators impact the depletion of ozone layer, much more than the HFC's which do have an impact but of lesser margin. Using leak proof air conditioners are of the safest way of preventing HFC's damage to environment, but leaking refrigerants contribute highly to irreversible environmental damage.
Home Air Conditioner Omaha
, by AA American facilitates the customers to avoid high costing repairs with their preventive maintenance agreements, which seal of the leakages preventing damage to environment, in addition to providing a discounted service on labor and replacements parts. The agreement covers up all the heating and air conditioning service needs, as they service all equipment of makes and models, 24 hours a day, 7 days a week.
Fortified with experience of over 90 years AA American has been providing the consumers with Air Conditioners Omaha, of excellent quality brought about by applying innovative technology that enhances performance, increase efficiency and makes the air cleaner for safe breathing. But none of this is achieved by compromising on safety of environment, by using green products like R-410A refrigerant in air conditioners. R-410A is one of the most environmental friendly AC products that do not contribute towards depleting of ozone layer. The firm also uses products like
Gas furnaces that operates with efficiency of 95%
Single and 2 stage heat pumps
Ultra Efficient Hallowell Acadia 4 stage heat pump which not only has zero 300%+ efficiency but also has amazing zero carbon footprint
Moreover AA American practices the policy of Go Green in every area of their functioning, leading with a good example for their customers. Most of the vehicles used by heaters and air conditioner Omaha, by AA American accept alternative fuel sources like Biodiesel and E85. The lighting system in their buildings is done by CFL environment friendly light bulbs.
90% of the wastes like copper and sheet metal are recycled by them, in addition they use post consumer recycled materials like printer paper, cardboard paper and paper towels in their office. The AA American Company reclaims from the customers any bad or used refrigerants when they service the HVAC systems.
About AA American Heating and Air Conditioning
AA American is locally owned and operated company serving Omaha for more than 90 years, meeting the needs of heating and air conditioning consumers competently. Their skillful staff is available 24/7 to assist the consumers with installations, servicing or repairs of any kind. Their environmental friendly functioning is also very cost effective going easy on the budget of customers.
Featured Product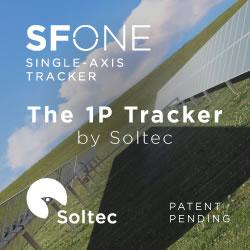 SFOne is the 1P single-axis tracker by Soltec. This tracker combines the mechanical simplicity with the extraordinary expertise of Soltec for more than 18 years. Specially designed for larger 72 an 78 cell modules, this tracker is self-powered thanks to its dedicated module, which results into a lower cost-operational power supply. The SFOne has a 5% less piles than standard competitor, what reduces a 75% the labor time.