Second Trojan Tips Series Planned for 2013
Santa Fe Springs, Calif., Oct. 23, 2012 - The first set of Trojan Tips

educational videos is now available on the Trojan Battery Co. website. The
Trojan Tips video tutorials are designed to provide in-depth information
focusing on a variety of battery topics as well as expand awareness and
understanding of deep-cycle battery technology.
"Trojan developed the Trojan Tips video tutorials to educate the public on
how to enhance the performance and longevity of deep-cycle batteries that
power a variety of electrical equipment," said Vicki Hall, Trojan's director
of quality and technical services, and host of the Trojan Tips. "Trojan has
received such tremendous positive feedback on the initial Trojan Tips
series, and we are planning to develop another series of videos in 2013."
The Trojan Tips educational videos can be viewed at
www.trojanbattery.com/TrojanTips. The following titles are available:
Deep-Cycle Battery Technologies - Expand your deep-cycle battery knowledge
of various technologies available on the market today, and what to consider
when selecting a battery for a particular application.
Determining the Health of a Deep-Cycle Battery - Learn the importance of
measuring the state of charge of deep-cycle batteries by evaluating open
circuit voltage and calculating specific gravity.
Battery Maintenance to Maximize Performance and Life - Learn proper safety
techniques and methods for cleaning, watering, equalization, avoiding
stratification and calculating specific gravity.
Expand Your Battery Charging "Know-How" - Learn important facts about
battery charging as part of an effective battery maintenance program,
including correct charging procedures, and rules to follow when charging.
Equalization is Key to Extending Battery Life and Performance - Learn how
equalizing deep-cycle batteries will help avoid and reverse the buildup of
negative chemical effects such as stratification and sulfation.
Proper Safety Methods for Handling Deep-Cycle Batteries - Safely handling
batteries ensures the well-being of you, your equipment and those working in
or around the area of battery-powered machines or vehicles.
Understanding Battery Capacity & Life Expectations - Learn about battery
capacity ratings, achieving maximum capacity, signs of battery aging, and
how depth of discharge measurements impact overall battery life.
Tips on How to Properly Store Deep-Cycle Batteries - Learn proper storage of
deep-cycle batteries, and important maintenance procedures to perform while
batteries are stored for long periods of time.
Battery Myths & Legends That Could Harm Deep-Cycle Batteries - Fact or
Fiction? Discover the truth about the myths circulating on the golf course
or in social circles to avoid destroying your battery investment.
About Trojan Battery Company
Trojan Battery Company is the world's leading manufacturer of deep-cycle
batteries and a battery technology pioneer, having built the first golf car
battery in 1952. Trojan batteries provide power for a wide variety of golf,
industrial, renewable energy, recreational and auxiliary power applications.
Founded in 1925, the company is ISO 9001:2008 certified with operations in
California and Georgia, and maintains two of the largest and most extensive
research and development centers in North America dedicated to engineering
new and advanced battery technology. For more information on Trojan Battery
Company, visit www.trojanbattery.com.
Featured Product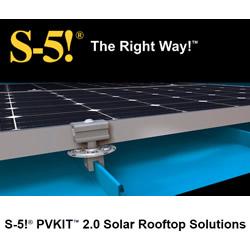 The concept of combining PV arrays with standing seam metal roofing is growing-for good reasons. Metal roofs have a life expectancy of more than 40 years. Shouldn't the mounting system last as long? With S-5! zero-penetration attachment technology and PVKIT 2.0, the solarized metal roof is the most sustainable system available -and without compromising roof warranties! PVKIT 2.0 is the also the best solution for attaching PV modules directly to any exposed fastener metal roof.