New technology generates up to 33% real estate savings and up to 25% reduction in power losses
MINNEAPOLIS, MN – Precision, Inc. (www.precision-inc.com) announces the global launch of four new technologies within the company's family of High-Current Inductors. Available in four standard sizes as well as in a variety of custom formats, the new high-current inductors feature a unique flat-wire, ferrite core construction that generates both real estate and cost savings while reducing power losses.

Applications
The new Precision High-Current Inductors can be used as a standard part drop-in replacement or as part of a custom technology solution. These inductors also work with power management ICs made by major IC manufacturers such as International Rectifier, Microchip, Texas Instruments, etc. The technology can be easily integrated into a number of key power conversion applications for a wide number of industries.
Applications
• Micro-Inverters
• Battery Chargers
• AC-DC / DC-DC Converters
• Buck / Boost Converters
Industries
• Solar
• Medical Device
• Industrial Control
• Lab/Test Equipment
• Personal Electronics
• Appliances
Innovative Flat-Wire, Edge-Wound Copper Coil
The high-density construction of the Precision High-Current Inductors features an innovative flat-wire, edge-wound copper coil that generates significant efficiency gains and space savings compared to alternative round-wire or Litz wire technologies.
The high-density inductor construction maximizes form capabilities and generates up to 33% real estate savings compared to round-wire alternatives. This high-density construction allows for 50-60% copper utilization compared to just 35-40% for round-wire or 25-30% for Litz wire. Higher copper utilization reduces power losses up to 25% compared to alternative round-wire and Litz wire technologies due to the reduced resistance. The single-layer winding also reduces parasitics which leads to lower switching losses and higher efficiency.
Higher copper utilization also means higher inductance can be achieved at a given volume. This not only generates potential real estate savings, but also leads to lower ripple current which in turn reduces stress on other circuit components such as EMI filters and output capacitors. Overall system component pricing can be reduced as design engineers no longer need pricier, more durable EMI filters and output capacitors.
Ferrite Core Construction
Precision's new High-Current Inductors feature cost-effective and efficient ferrite core construction. Ferrite is more cost-effective than metal alloy powder material such as Sendust and enhances performance by allowing up to 50-90% lower core loss. Ferrite is also resistant to thermal aging, ensuring a long operational life. The ferrite core shape is carefully designed to allow for optimal surface area to volume ratio for efficient heat dissipation in high-current applications.
Standard and Custom Technology Options
Standard
The Precision family of High-Current Inductors features four standard RoHS compliant and halogen-free technologies that can serve as immediate drop in replacement parts.
Custom
For custom and semi-custom applications, complimentary design engineering support is provided for small, mid and high volume orders. Precision's unique offering includes on-shore and off-shore manufacturing capabilities and state-of-the-art design software that makes it possible to optimize all performance parameters for each unique application. Precision design engineers have industry-leading experience in the broadest array of inductor and transformer applications.
###
Photography
IMAGE: PrecisionHighCurrentInductor.jpeg
SAMPLE CAPTION: The new family of High-Current Inductors from Precision feature an innovative flat-wire, edge-wound copper coil design that generates up to 33% real estate savings and up to 25% reduction in power losses compared to round-wire alternatives.
Precision Contact Information
For additional information or engineering assistance:
Precision's Sales Department, Address: 1700 Freeway Blvd., Minneapolis, MN, 55430. Phone: 763-561-6880. FAX: 763-561-9050. E-mail: customerservice@precision-inc.com Web: http://www.precision-inc.com.
About Precision, Inc.
Precision, Inc. is an industry-leading designer and manufacturer of custom and standard magnetic components and assemblies. The Minneapolis-based company has over 40 years of design experience and specializes in the creation of innovative and sophisticated solutions for solving customer's magnetic technology needs. Precision, Inc. uses cutting-edge materials and state-of-the-art design technology to deliver products across a broad range of industries including renewable energy, medical device, aerospace/aviation/automotive, electronics, food processing, instrumentation, industrial control, telecommunications and HVAC applications. Precision, Inc. is ISO 9001 and ISO13485 certified and ITAR registered.
Featured Product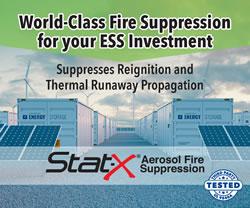 Stat-X® condensed aerosol fire suppression is a solution for energy storage systems (ESS) and battery energy storage systems (BESS) applications. Our Stat-X condensed aerosol fire extinguishing product was tested for efficacy in suppressing li-ion battery fires. It was found that the product successfully extinguished single and double cell battery fires. This testing was conducted in parallel with a large battery fire testing program on behalf of a large energy storage company.