Company Armed to Meet Growing International Demand for Cost-effective and Reliable Clean Energy
(OAKLAND, CA) October 24, 2012 – BrightSource Energy, a leading concentrating solar thermal technology company, has raised more than $80 million in additional equity financing. This brings BrightSource's total equity financing to more than $615 million and positions the company for significant international growth.

"Today's capital raise reflects the important role of our solar thermal power tower technology in meeting the world's growing demand for cost-effective power that is not only clean, but reliable as well," said John Woolard, Chief Executive Officer of BrightSource. "With these funds we will continue to build solar power plants for our U.S. customers, while significantly increasing our presence around the globe."
Alstom, a global leader in the world of power generation, and VantagePoint Capital Partners lead the round. Additional investors include DFJ, CalSTRS, DBL Investors, Goldman Sachs, Chevron Technology Ventures and BP Ventures among others.
"Strengthening our partnership with BrightSource Energy enhances our development towards providing fully integrated solar thermal power plants. This new investment is a further step in our commitment to the solar thermal power market, and paves the way to provide cost-efficient and reliable carbon free power to our customers," said Jérôme Pécresse, Alstom Renewable Power President. "This reinforces solar thermal power's position at the heart of Alstom's strategy providing leading renewable power solutions spanning hydro, wind, geothermal, ocean and biomass."
As part of the financing round, BrightSource and Alstom have expanded geographic partnerships to build solar thermal power plants in India and Australia. In October 2010, the companies announced partnerships in the Mediterranean Ring and Africa. The companies are also collaborating on a series of solar research and development activities focused on thermal storage and hybridization with fossil fuels.
"With its Ivanpah plant nearing completion, BrightSource is demonstrating the important role that large scale solar thermal power will play in providing clean, cost-effective and reliable power to the American grid," said Stephan Dolezalek, Managing Director at VantagePoint. "BrightSource's unique technology combines the scale, robustness and stability of conventional power plants with the attractive low-carbon profile of using a solar feedstock. In addition, the Company's model of working closely with global partners including Alstom, Bechtel, NRG, Google and Chevron is how we see the technology of energy evolving."
According to the International Energy Agency (IEA), solar energy, including both Concentrated Solar Thermal Power and Photovoltaics could account for 25% of global electricity by 2050 and cover a third of global energy demand after 2060. Concentrating solar thermal power alone could supply 11.3% of the world's electricity by 2050.
BrightSource Energy currently operates a 6 MW thermal demonstration facility in Israel's Negev Desert and a 29 MW thermal facility for Chevron Corp. in Coalinga, California. BrightSource is currently constructing the 377 MW (net) Ivanpah solar project in partnership with NRG Energy and Google. Ivanpah is more than 60 percent complete and due to provide clean, reliable energy to over 140,000 California homes by the end of 2013. The company's next two projects, the 500 MW Rio Mesa and 500 MW Hidden Hills projects, are currently under review by the California Energy Commission and expected to receive a permitting decision in 2013.
About BrightSource Energy, Inc.
BrightSource Energy, Inc. is a leader in the design and development of concentrating solar thermal technology used to produce high-value electricity and steam for power, petroleum and process markets. To learn more about BrightSource Energy and concentrating solar thermal energy, visit www.brightsourceenergy.com.
Featured Product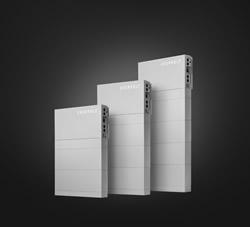 Renewable energy stored in an EVERVOLT home battery system is the perfect backup plan against an uncertain utility grid and weather events. Run key appliances longer and live life when the unexpected happens. EVERVOLT battery storage systems are covered by a complete 12-year warranty from Panasonic.