It is expected that the 50 electric BYD e6 will be available for its customers to use from the second quarter of 2013
LONDON--BYD and greentomatocars have signed a Memorandum of Understanding to create London's first fleet of all-electric minicabs.

BYD, the fastest-growing Chinese car manufacturer that is pioneering hybrid and electric vehicles, will supply greentomatocars with 50 of its pure electric e6 models for trial use in the Capital.
greentomatocars is London's second largest quality minicab service and strives to use the most environmentally-friendly vehicles available in its fleet of 300. It is expected that the 50 electric BYD e6 will be available for its customers to use from the second quarter of 2013.
The Mayor of London, Boris Johnson, said: "It is my aim that London's minicabs and taxis will be zero-emission by 2020, which will have a major impact on air quality. Every year the fleet is getting cleaner, making our city an even more attractive place to live, work and visit. Encouraging many more electric vehicles is a key part of this transformation, so it is great news that greentomatocars has committed to operating 50 of these super clean machines from next year."
BYD Chairman Wang Chuanfu said: "We are delighted to supply greentomatocars with e6 vehicles that will create London's first electric minicab fleet. The e6 has zero tailpipe emissions, so it avoids contributing to the city's CO2 levels and results in cleaner air for Londoners."
Jonny Goldstone, managing director of greentomatocars, added: "We are very pleased to be working with BYD on this project. As a partner company, BYD has shown great leadership to challenge the status quo, innovate and electrify mass transport - principles which go to the very heart of greentomatocars."
"As a car, we see strong parallels between the e6 of today and the then-unfashionable Toyota Prius of 2006. It's exciting to think that, even as a 5-car start up, we played a major role in making the Prius popular; given the scale, experience and high-tech infrastructure we now have at our disposal, we'd love to 'do a Prius' with the e6, and help propel electric vehicles into the automotive mainstream - where they deserve and, for all our sakes, need to be," said Mr. Goldstone.
BYD has also been supported in this deal by London & Partners, the Mayor's official promotional organisation for London.
The five-seat e6 is a crossover vehicle with a spacious interior that lends itself perfectly to the private hire market, with substantial legroom and headroom for passengers, as well as ample luggage capacity. It is a zero-direct-emission electric vehicle, which means that it emits no harmful toxic emissions, criteria pollutants or harmful greenhouse gases. BYD e6 taxis are well-proven and have already driven a total of more than 14 million miles in key global markets.
The e6 features a 75kW motor and BYD's own Fe battery (Iron Phosphate battery), which gives the car a range of up to 186 miles on a single charge in urban conditions with a top speed of 87mph and instant torque providing excellent acceleration. The Fe battery can be fully charged and discharged for more than 4,000 cycles.
Present at the signing of the Memorandum of Understanding were BYD Chairman Wang Chuanfu; BYD Senior Director Henry Li, BYD Europe Business Director Paul Lin; BYD EU Regional Manager Michael Miao; Co-founder and MD of greentomatocars, Jonny Goldstone; Co-founder of greentomatocars, Tom Pakenham; CEO UK and Ireland of Veolia Transdev, Nigel Stevens; and Marketing Manager of greentomatocars, Hamish Phillips.
About BYD
BYD Co., Ltd is a leading-edge provider of green energy technologies that specialises in the IT, automotive, and new energy industries. Being the world's biggest rechargeable battery manufacturer, BYD has also major global market share for cell-phone contract manufacturing. BYD branched out into the auto business in 2003, and has kept a robust yearly growth rate successively. In 2008, Warren Buffett invested $232 million to take a 9.89% stake in BYD. Today, BYD is the fastest-growing Chinese auto company and a global pioneer in the field of new energy vehicles including Dual Mode Electric Passenger Cars, Pure electric Buses and Pure Electric Vans /Trucks. Based on its core Fe Battery technology, BYD has worked out a Green City Solution, which aims to electrify urban public transportation systems by transitioning from gasoline and diesel buses and taxis to pure electric ones. In March 2012, BYD and Daimler AG officially announced the entirely new EV brand Denza in China. In addition, BYD has also focused on the Research & Development and manufacturing of a wide range of new energy products, including energy storage system, solar energy products and LED lighting.
About greentomatocars
greentomatocars is London's alternative to local minicabs, executive cars and black taxis. Established in 2006 as London's first green minicab company, its fleet now numbers 300, making it the second largest in the capital. With free Wi-Fi on board, text messaging on arrival and an iPhone booking app, greentomatocars offers a quality service at highly competitive rates. greentomatocars is part of the Veolia Transdev Group, the world's largest sustainable transport company. For more information please visit www.greentomatocars.com
About London & Partners
London & Partners is the official promotional organisation for London with the remit of attracting and delivering value to businesses, students and visitors. London & Partners is a not-for-profit organisation, funded by the Mayor of London and a network of commercial partners. For more information of London & partners go to www.londonpartners.com
Featured Product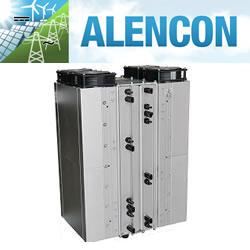 Alencon Systems is the premier manufacturer of high power, high voltage DC:DC optimizers for alternative energy applications including solar, battery energy storage, Microgrids, Fuel Cells and Electric Vehicle charging. Alencon's DC:DC converter offerings include the SPOT, BOSS and CUBE series DC:DC converters. The SPOT is a modular, uni-directional DC:DC solution ideal for solar applications. The BOSS is a modular, bi-directional unit for use with battery energy storage. The CUBE is a monolithic DC:DC converter which is available in both uni-directional and bi-directional modalities. Pictured above, is the Alencon SPOT.