PVGard® engineered monitoring system alerts customers to underperforming panels, inverters and transformers.
PITTSBURGH … Diversified industrial manufacturer Eaton Corporation has introduced PVGard® engineered monitoring system, which helps solar customers monitor and proactively manage solar plant's equipment. The web-based PVGard monitoring system, which Eaton previewed at the Solar Power International Conference in Orlando, alerts customers to underperforming panels, inverters and transformers. Providing advanced predictions of many potential failures, the PVGard system helps customers avoid downtime and maximize energy harvest. The PVGard system was developed to advance solar projects and satisfy power purchase agreements.

"Eaton has an expansive network of application and field service engineers to provide local support for solar customers," said Bill Miller, global marketing director at Eaton. "With the PVGard system and Eaton's engineering support, customers can improve system uptime and reduce maintenance costs by tracking equipment health and identifying power problems before they occur."
With custom algorithms to track multiple inputs, the PVGard engineered monitoring system helps customers maintain and improve system performance. It collects data directly from equipment including PV arrays, inverters, AC equipment and weather parameters. Transmitting data in real-time, PVGard enables customers and plant operators to respond faster to abnormal conditions.
The monitoring and display software enables customization to incorporate descriptive text, schematic diagrams and customer-specific data. The PVGard engineered monitoring system also provides real-time data and alarm notification through text and email.
For additional information about Eaton's PVGard, electrical balance of system solutions and services, visit www.eaton.com/solar.
Eaton's electrical business is a global leader in power distribution, power quality, control and automation, power monitoring, and energy management products and services. Eaton is positioned, through its global electrical product series and solutions to answer today's most critical electrical power management challenges.
Eaton Corporation is a diversified power management company with more than 100 years of experience providing energy-efficient solutions that help our customers effectively manage electrical, hydraulic and mechanical power. With 2011 sales of $16.0 billion, Eaton is a global technology leader in electrical components, systems and services for power quality, distribution and control; hydraulics components, systems and services for industrial and mobile equipment; aerospace fuel, hydraulics and pneumatic systems for commercial and military use; and truck and automotive drivetrain and powertrain systems for performance, fuel economy and safety. Eaton has approximately 73,000 employees and sells products to customers in more than 150 countries. For more information, visit www.eaton.com.
Featured Product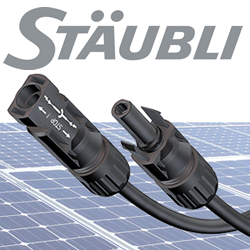 ​Stäubli Electrical Connectors are used on more than 300 GW, over 50% of the PV capacity worldwide. The MC4 family of UL and TUV listed products include connectors, in-line fuses, branch connectors, cable assembly and more.