Last week the Development Bank of Southern Africa (DBSA) announced the approval of loans amounting to R9.6 Billion for 14 renewable energy projects in South Africa, with a combined capacity of 896.5MW.
Despite severe delays to the Renewable Energy Independent Power Producer Programme (REIPPP), the inclusion of CSP projects on the list of those approved for loans by the DBSA is seen as significant progress by many experts in the industry. Two projects under development in South Africa are Abengoa's 50MW Khi Solar One and 100MW KaXu Solar One plants, both of which were approved loans by the DBSA, and consequently have taken important steps to meet their terms under the REIPPP to be up and running by mid-2015.

However, despite this positive news for the South African CSP industry there still remains a lack of clarity on the tender CSP will be awarded in Round III of the REIPPP. Currently, the Round III bid submission date has been pushed back over 8 months, originally scheduled for 20 August 2012 and now expected to take place in early May 2013. The major challenge in this region remains long-term market certainty, with developers, investors and manufacturers reluctant to commit more resources into South Africa until the government provides a clearer picture on how many MW's will be available in later rounds.
The impact of delays on investor confidence is undoubtedly the biggest concern for the industry. In addition with the recent announcement from the Department of Energy that 3200MW will be added to the REIPPP, CSP will need to attract further investment to see an increased share of the emerging renewable energy market in South Africa.
To combat this uncertainty surrounding the future financing of projects, CSP Today have announced this week that the Industrial Development Corporation, Export-Import Bank of the United States, NedBank, Standard Bank and Investec will participate at CSP Today South Africa 2013 (4-5 February, Pretoria). The risks associated with CSP technologies in South Africa and the challenges faced to secure project finance ahead of Phase III will form a critical part of the discussions. In addition leading developers and regulators will identify what initiatives must be taken to maintain financial backing for CSP, to create a roadmap to sustain market growth.
In a recent interview, event organizer Jack Ahearne said that "with a cloud of uncertainty surrounding future rounds of the REIPPP, it is crucial that the industry unites to address how Phase I and II has impacted future CSP growth, to create a viable roadmap to sustain development in South Africa".
The event is set to take place on 4-5 February in Pretoria, with over 250 leading stakeholders in attendance. For more details about the summit go to the website: www.csptoday.com/southafrica
Or contact:
Jack Ahearne
CSP Today
jack@csptoday.com
Featured Product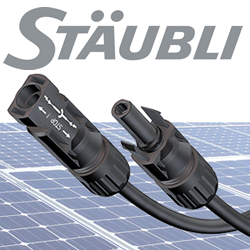 ​Stäubli Electrical Connectors are used on more than 300 GW, over 50% of the PV capacity worldwide. The MC4 family of UL and TUV listed products include connectors, in-line fuses, branch connectors, cable assembly and more.