Wind Energy Update is holding the largest offshore wind health and safety summit this December in Copenhagen. With Denmark's history and growth in offshore wind it was the obvious place to hold such an event! With over 100 health and safety executives in attendance.
They will hear from DONG Energy , Statoil, Mainstream Renewables, RES Offshore and RWE Innogy, Siemens, Vestas, Gamesa… on HSE challenges including safety culture, access options and training.

Last week the world's largest installation vessel was unveiled in Copenhagen, this will only result in further growth of the offshore wind industry in Denmark. Wind power currently makes up 28% of Denmark's electricity production and it is predicted to rise to 50% by 2020. The reliance on wind energy in this European country has resulted in the creation of over 300 companies that work directly with the industry.
Because of this and the history surrounding the wind industry in Denmark, Wind Energy Update are happy to announce that this year's Offshore Wind Health and Safety Summit will be held in Copenhagen on the 5-6th December. Offshore companies such as Statoil, Mainstream Renewables and RES Offshore have all expressed their commitment to health and safety through their participation as speakers. The health and safety managers from Gamesa, Vestas and Siemens will also be speaking at the summit.
As an industry first, we will be joined by the Offshore Construction HSE manager for DONG Energy, Kennet Majlund Larsen. He will be discussing safety from a utilities perspective, providing a mixture of case studies and examples of how to maintain safe working practice on offshore wind farms.
Following three months research into offshore wind health and safety, a reoccurring theme amongst the industry health and safety managers was how to implement safety culture into their organizations. In response to this need for information, we have Pinsent Mason presenting on, "developing a safety management system for offshore wind farms and the interaction with legal and cultural issues." Also the ooffshore HSE Manager for Gamesa will speak about "Culture and the effect on contractual interfaces". In a bid to generate discussion and debate, we have a fantastic panel session on how to improve safety culture in your organisation with the Crown Estate, RES Offshore and Olesen Management.
With over 100 health and safety executives in offshore wind expected this year, the Offshore Wind Health and Safety Summit is anticipated to be the biggest and most important offshore wind health and safety meeting to date. With commitment and support from all the major offshore wind companies including: Dong Energy, Statoil, Mainstream Renewables, RES Offshore and RWE Innogy, this event will give attendee's in 2012 all the key information and case studies to reduce accidents on their offshore wind projects.
Download the brochure here http://www.windenergyupdate.com/health-safety-offshore/conference-event-brochure.php?utm_source=PressRelease%2BAltEnergyMag%2B3010&utm_medium=PressRelease%2BAltEnergyMag%2B3010&utm_campaign=2139
Featured Product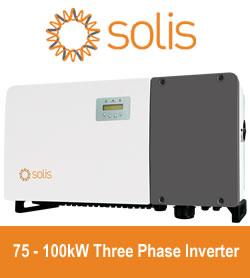 Solis75kW - 100kW series high-power string inverters are widely used in industrial and commercial rooftops. Solis's new three-phase string inverter is the first choice for industrial and commercial photovoltaics. 75-100kW three phase series string inverter have Maximum 28 strings input, support "Y" type connection in DC side. Maximum string input current 13A, support bifacial modules access.Supports anti-PID function to improve system efficiency.