Swansea University leads the way in developing a new coating for metal and glass which can store and release energy.
A new pilot manufacturing facility producing practical, functional coated metal and glass which can store and release energy at point of use is set to revolutionise the UK's renewable energy industry.

The products are suitable for use as the actual fabric - roofs, external and internal walls and ceilings – of both new and existing buildings, such as retail outlets and corporate office blocks, where metal and glass predominate, and will turn buildings into 'power stations' capable of generating, storing and releasing their own energy.
Representing a major shift in energy generation for the built environment, it is forecast to deliver huge economic benefits, including up to 10,000 new jobs in the supply chain, once it is taken up for large-volume manufacture by industry, anchoring advanced manufacturing in the UK and providing global export opportunities.
The development has been achieved by a partnership of government, academia and industry, a powerful fusion of expertise, brought together under the Innovation and Knowledge Centre (IKC) initiative. It has been triggered by a £20 million investment over five-years, led by Swansea University and based at the Baglan Bay IKC near Port Talbot, in South Wales – codenamed SPECIFIC, short for Sustainable Product Engineering Centre for Innovative Functional Coatings.
SPECIFIC has adopted an 'open innovation' approach, bringing a multifunctional team of engineers, scientists and business people together under one roof to develop and test potentially world-class technology.
In addition to Swansea University, the partnership involves leading university groups, including Imperial College, Bath, Bangor, Cardiff, Glyndwr and Sheffield, and multi-nationals such as Tata Steel, BASF and NSG Pilkington.
The IKC is backed by £10 million funding from the Engineering and Physical Sciences Research Council (EPSRC) and the Technology Strategy Board, and a further £2 million from the Welsh Government.
Kevin Bygate, chief executive of SPECIFIC, said: "What we are achieving at the Baglan Bay Innovation & Knowledge Centre is of global significance. It has the potential to create a range of renewable energy applications which will be available commercially within a few years.
"The funding secured to date and the unique collaboration between government, academia and industry has enabled us to make rapid progress within a relatively short timescale. We are delighted to be launching this pilot production line today which will pave the way for rapid commercialisation and the creation of a major UK industry."
Featured Product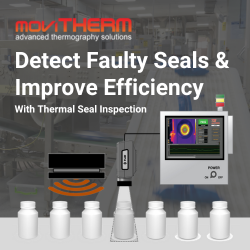 MoviTHERM's Thermal Seal Inspection (TSI) solution provides precise and reliable detection of defects in a variety of packaging types, including pouches, bags, blister packs, bottle caps, and more. By detecting defects in your packages, the TSI solution helps increase efficiency in your production line and ensures top-quality packaging is delivered to your customers every time. With state-of-the-art technology and an experienced team, MoviTHERM is dedicated to delivering accurate inspection solutions and peace of mind to its clients. Contact MoviTHERM today to learn more about their thermal seal inspection solution.