Proposed project features 40 percent fewer turbines than the original design; changes endorsed by numerous recreational and environmental organizations
CARROLL PLANTATION, Maine--Champlain Wind LLC, a project company of First Wind, an independent U.S.-based wind energy company, has submitted an application to the Maine Department of Environmental Protection (DEP) for a revised 48 megawatt (MW) Bowers Wind project that has 40 percent fewer turbines than an earlier proposal. The proposed project will be located in Penobscot and Washington Counties. Several public health groups, neighboring landowners, environmental organizations, and sportsman associations have pledged their support for the revised project.

In preparing the new project, First Wind met with and considered the input of stakeholders throughout the region and state. Key changes include:
*40 percent fewer turbines at the project – reduced from 27 to 16 turbines total proposed;
*Reconfigured turbine locations in response to feedback from the original project;
*Moved turbines further away from nearby lakes;
*More efficient turbines to be used – increased generating capacity by 30 percent per turbine;
*Will feature state-of-the-art aviation lighting that is radar-controlled, so as to reduce the effects of nighttime lighting. The radar-controlled lights stay off until planes approach;
*Created watershed fund – dollars could be used to improve deer herd and promote local guiding and other tourism businesses.
The Maine DEP has accepted the application and the project now enters the review process, with support from statewide environmental, public health and recreational groups such as Maine Audubon, American Lung Association of the Northeast, Conservation Law Foundation, the Sportsman's Alliance of Maine, and the Maine Chapter of the Sierra Club. The project has also been endorsed by the Washington County Commissioners and the Sunrise County Economic Council (SCEC).
"This is a $100 million project that would be located in rural Maine and has the potential to put nearly 100 Maine companies and hundreds of Mainers to work during the construction phase, with several permanent positions for the life of the project," said Matt Kearns, Vice President of Northeast Business Development for First Wind. "The wind industry has invested more than $1 billion in Maine over the last few years and with projects like this we can continue to invest in Maine companies, communities, students and organizations."
"Since 2009 we have been listening to people who live in and around the project area to make sure that their input is considered in the design of the project," said Neil Kiely, Director of Development for First Wind. "Although it is early in the review process, we are extremely encouraged by the support we have received."
About 144 residents reside in the host community of Carroll Plantation. Recently, 112 residents and landowners have signed a petition in support for the project.
"The Great Depression hit Carroll in the 1930s and never left. We have folks who are the third or fourth generation, live on family lands and they are struggling to stay on their land in the face of rising taxes," said Anita Duerr, the clerk of Carroll Plantation. "The wind project is a once in a lifetime opportunity for our community to give us some financial breathing room and reduce the anxiety of the older folks in town who are on fixed incomes. We see the Stetson turbines now and they don't bother us, which is why folks voted to accept the project in Carroll."
The revised proposal for the Bowers Wind project has already received endorsements and support from several of Maine's leading environmental and health advocacy organizations.
"Maine Audubon has been reviewing wind energy projects in Maine for more than a decade, and we consistently advocate for well-sited wind power projects that have minimal impacts to wildlife and wildlife habitat," said Ted Koffman, Executive Director of Maine Audubon. "We support the Bowers Wind project because the location avoids high value wildlife habitat, and the project will provide another source of renewable energy in Maine."
"Maine has one of the nation's highest rates of asthma. Nearly 10 percent of all of our residents have this disease. While asthma can be effectively managed by good medical care, air quality is a key component to good health," said Edward Miller, Senior Vice President of Public Policy for American Lung Association of the Northeast in Augusta. "We need to move aggressively to reduce toxic emissions from fossil fuel use in heating, energy production and transportation and create a sustainable approach to assure healthy air will be achieved. The Bowers Wind project is a major step in the right direction."
"We support the Bowers Wind project because it strikes the right balance between visual impact and the significant benefits of increased renewable energy production in Maine," said Glen Brand, Sierra Club Maine's Director. "It represents an important step to a cleaner energy economy for Maine and New England."
The project will bring significant economic benefits to the region, both during construction, as well as after it is completed and operating.
"First Wind has been an economic driver for our region, beginning with the first phase of the Stetson Mountain project," said Harold Clossey, Executive Director of the Washington County-based Sunrise County Economic Council. "Since coming to Maine, the company has invested hundreds of millions of dollars into the statewide economy, working with more than 300 Maine-based businesses and employing over 1,000 people to build their four existing projects."
"With the Bowers project, First Wind has committed to invest an additional $100 million, and is planning to hire more than 100 people during peak construction – people who will be spending money in rural Maine stores, gas stations, and hotels," added Clossey. "Locally, we've seen the positive impact of First Wind's Stetson I and II wind farms, especially through the Washington County Unorganized Territories TIF grant and loan program that was created in conjunction with the Washington County Government. To date, $716,490 in grants and loans have been awarded by the County Commissioners, leveraging $3,438,000. We're confident that the Bowers Wind project will bring additional jobs and resources to Washington County."
The Bowers Wind project will pay about $6 million in taxes over the 20-year life of the project, and another $2.8 million in community benefits in the form of payments to Carroll Plantation and Washington County, as well as energy rebates to residents.
As part of the reworked Bowers project, First Wind has included funding to build awareness and increase access for popular recreational and outdoors activities including the mapping and promotion of a snowmobile trail network between viewpoints of the wind projects in the state. Studies conducted for the Bowers Wind project have also shown that wind projects will have virtually no impact on popular outdoor activities such as fishing or snowmobiling. In fact, local snowmobile clubs report that wind farms have become popular destinations for riders. Supporting groups include local snowmobile clubs and the Sportsman's Alliance of Maine.
First Wind addressed several issues identified by stakeholders who expressed concern about the original proposal. The amended proposal now includes a reduced number of turbines and project footprint, reduced project visibility from key scenic resources, a fund to offset energy costs for local residents, and a component designed to increase business for nature guides and sporting camps in the region along with recreational access to the site.
The revised proposal for the Bowers Wind project will:
*Consist of the construction and operation of sixteen (16) 3.0 megawatt (MW) wind turbines.
*The project will connect with the generator lead from the 83 MW Stetson Wind project near Danforth, Maine.
*Employ hundreds of people during the design, engineering and construction of the facility, with the expectation that there will be local employment on road, foundation and electrical line construction work.
*Produce approximately 157 million kilowatt-hours of clean electricity annually – enough to power about 25,000 homes per year. Generating that amount of electricity through fossil fuels would emit 59,000 metric tons of carbon dioxide, a major contributor to climate change; the Bowers Wind project will emit no pollutants.
First Wind currently has four other operational wind projects in Maine, including the 60 MW Rollins Wind project in Penobscot County, the 83 MW cumulative Stetson Wind I and II projects in Washington County, and the 42 MW Mars Hill project in Aroostook County. These facilities combined have 185 MW of capacity and generate 538,422 MWh of clean energy annually, powering the equivalent of about 80,000 homes. First Wind is also near completion on its fifth project in Maine, the 34 MW Bull Hill Wind project in Hancock County. Over $160 million in direct spending has been invested into Maine-based companies during the development and construction of these five projects.
About First Wind
First Wind is an independent wind energy company that develops, finances, builds and operates utility-scale wind projects in the United States. Headquartered in Boston, First Wind operates wind projects in the Northeast, the West and Hawaii, with the capacity to generate up to 772 megawatts of power and projects under construction with the capacity to generate up to an additional 208 megawatts. For more information on First Wind, please visit www.firstwind.com or follow us on Twitter @FirstWind.
Featured Product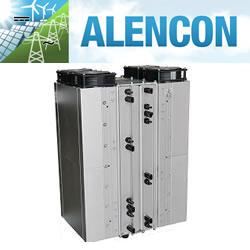 Alencon Systems is the premier manufacturer of high power, high voltage DC:DC optimizers for alternative energy applications including solar, battery energy storage, Microgrids, Fuel Cells and Electric Vehicle charging. Alencon's DC:DC converter offerings include the SPOT, BOSS and CUBE series DC:DC converters. The SPOT is a modular, uni-directional DC:DC solution ideal for solar applications. The BOSS is a modular, bi-directional unit for use with battery energy storage. The CUBE is a monolithic DC:DC converter which is available in both uni-directional and bi-directional modalities. Pictured above, is the Alencon SPOT.