For the second year in a row, the three companies are attending the leading trade show in the solar industry in India, to take place in Mumbai from 6 to 8 November.----- By being present in Intersolar INDIA, PROINSO, MECASOLAR and OPDE aim at strengthening their presence in the Indian solar PV market. At this trade show, they want to clinch deals to supply and sell their products as well as attract new Qualified Installers for their International Network, which has 66 Indian members at present.
30 October 2012. Companies PROINSO, MECASOLAR and OPDE are attending, for the second year in a row, the leading exhibition in the solar energy industry in India: Intersolar INDIA, to be held at the Bombay Exhibition Centre, Mumbai, from 6 to 8 November this year.

In this trade show, PROINSO, which has a branch in Mumbai as well as 66 Qualified Installers from India in its International Network, will show the products from leading brands it delivers worldwide: modules, solar kits, inverters, structures, trackers, solar solutions for urban applications in public areas, vehicle recharging stations, self-consumption installations, stand-alone PV power systems and monitoring systems.
In addition, by attending Intersolar INDIA, PROINSO wants to attract new Qualified Installers based in the Asian country. In 2011, PROINSO supplied 35MW to five solar PV projects in India.
According to company sources, the Indian solar energy market has a huge growth potential for the next few years. Forecasts for 2020 are promising, as India is expected to have installed over 10,000MW by then. Only this year, the country is expected to import more than 1GW in solar modules.
New MECASOLAR products
Intersolar INDIA will also be the perfect window to showcase the new solutions developed, manufactured and supplied by MECASOLAR, such as single- and dual-axis tracking systems, ground-mounted fixed structures and foundation screws for solar PV installations, and fixed structures for roof-mounted applications.
Among the new arrivals is the 140kWp horizontal single-axis tracker, launched in June 2012. The new solar tracker's modular, low-height structure results in simple assembly that does not require cranes or lifting equipment, thus saving time in the installation. The assembly of this tracker is faster than that of a fixed mount system; what is more, it can increase power output by 30%, depending on the latitude of the installation, thanks to the horizontal tracking function.
The simple modular design of the axes allows for perfect adaptability to different types of ground and dimensions. Besides, the system requires almost no maintenance, and consumption is very low (motor consumption: 165kWh/year).
Also on display at Intersolar INDIA, MECASOLAR's single-axis POLAR tracker, launched in December 2011, has a capacity of 114.4kWp, improving PR and reducing investment per Wp, thus increasing the profitability of installations.//
About Proinso www.proinso.net
As at the end of 2011, PROINSO had delivered a total 1,115MW around the world, a record high that turns it into one of the world's leaders in the sector, and the International Network of Qualified Installers, currently comprising more than 2,200 members, played a key role in this achievement.
With international markets accounting for 88% sales, PROINSO has offices in Spain, Germany, Greece, Italy, USA, Great Britain, France, Canada, China and the Czech Republic. Recently, the company set up branches in Australia, India and Thailand.
About MECASOLAR www.mecasolar.com
MECASOLAR specialises in the design, manufacture and supply of single- and dual-axis solar trackers, ground-mounted fixed structures and foundation screws for solar PV facilities, and roof-mounted fixed structures. It has manufacturing plants in Spain, Greece, Canada and USA.
ABOUT OPDE www.opde.net
Specialising in the development, construction and maintenance of PV solar farms, OPDE is one of the world's leading companies in the solar PV industry. As of year-end 2011, the company had expanded by 50%, reaching 152MW worldwide
Featured Product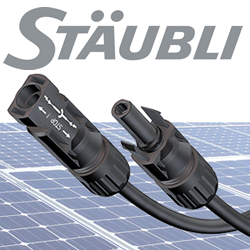 ​Stäubli Electrical Connectors are used on more than 300 GW, over 50% of the PV capacity worldwide. The MC4 family of UL and TUV listed products include connectors, in-line fuses, branch connectors, cable assembly and more.