REG Windpower is one of the country's leading developer and operators of small to medium-sized wind farms.
REG Windpower has successfully financed its 10MW Sancton Hill Wind Farm, using a 10 year non-recourse debt facility from the Co-Op Bank. The wind regime was analysed on-site through a relatively novel approach, which utilised long-term reference data from short 16 metre met masts combined with a short ZephIR lidar deployment. ZephIR provides measurements up to 200 metres from installed level and importantly down to just 10 metres to provide on-site correlations with the short masts.

After having it agreed by some of the UK's leading wind consultants, this 'short mast + ZephIR' methodology was adopted by REG Windpower in 2009 when a strategic approach to wind monitoring across the company's portfolio of sites (currently totalling some 11 operational wind farms and over 900MW in the pipeline) resulted in the purchase of three ZephIR lidars.
This ground-breaking approach to wind monitoring and energy yield assessment was used to create a 'bankable' P90 Energy Yield Analysis report for the Sancton Hill project. This work was then subsequently used and relied upon by the Co-Op for the refinancing exercise.
Commenting on the project, REG Windpower's Wind Assessment Manager, Simon Pipkin noted: "ZephIR was deployed on site with a low-cost, short mast for just 6 months and delivered the data we needed to reach financial close for Sancton Hill. This approach allowed us to start monitoring quickly without the need of a tall mast - which themselves encounter significant planning issues now – and deliver bankable, finance-grade wind data to the Co-Op Bank to take the site forward in a timely, cost effective and safe manner. The wind speed recorded by the ZephIR deployed varied from the mast by just 0.9% during the correlation period which is far better than often found when comparing two cup anemometers."
REG Windpower is one of the country's leading developer and operators of small to medium-sized wind farms and with the help of Prevailing is now using ZephIR extensively across the portfolio of sites for both financing projects and in noise monitoring campaigns due to the ability for fast deployments on site and for short periods of time. An additional site, Orchard End Wind Farm in Lancashire, will be financed using the short mast + ZephIR methodology in the near future and a further 3-4 wind farms to follow.
On the announcement, Ian Locker, MD at Zephir Ltd. commented: "Having worked with REG Windpower since 2009, we are very pleased to see the financial close of Sancton Hill Wind Farm utilising this novel approach to collecting finance-grade wind data which replaces the need, and cost, of a traditional tall met mast."
About REG Windpower Ltd.
REG Windpower was among the UK's original renewable energy trailblazers, starting life as the Cornwall Light and Power Company back in 1989. We are now one of the country's leading developer and operators of small to medium-sized wind farms and in 2010 changed our name to REG Windpower to reflect our expanding nationwide business. We own and operate 11 wind farms around the UK and have offices in Truro and Bath. The REG Windpower team now contains the necessary expertise to develop, build and operate our portfolio of sites, which includes 51.15MW of operational capacity, with another 900MW in development. As we are involved with projects from their inception and throughout their lifespan, we seek to build strong relationships with landowners and local communities.
REG Windpower is owned by Renewable Energy Generation Ltd. REG Ltd is listed on London's Alternative Investment Market (AIM). As well developing, building and operating wind farms, the group also generates renewable energy from used cooking oil through its subsidiary company REG Bio-Power.
REG Windpower's Sancton Hill Wind Farm is located in Yorkshire's East Riding consists of 5 Vestas 2MW V80 GridstreamerTM turbines.
About Zephir Ltd.
In 2003 we released the first commercial wind lidar, ZephIR®, exploiting decades of research at UK government Research & Development establishment QinetiQ. Designed specifically for the wind industry ZephIR has paved the way for many of the remote sensing devices seen in the market today. Our original lidar technology continues to innovate with world firsts such as taking measurements from a wind turbine spinner and being the first to deploy an offshore wind lidar, both fixed and floating. ZephIR has also now amassed more than 3 million hours of operation across 650+ deployments globally spanning a decade of commercial experience. For wind measurements onshore, offshore and in turbine-mounted applications, ZephIR provides accurate, reliable finance-grade wind data.
Featured Product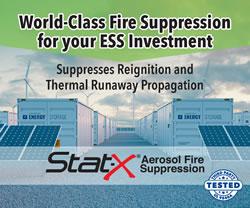 Stat-X® condensed aerosol fire suppression is a solution for energy storage systems (ESS) and battery energy storage systems (BESS) applications. Our Stat-X condensed aerosol fire extinguishing product was tested for efficacy in suppressing li-ion battery fires. It was found that the product successfully extinguished single and double cell battery fires. This testing was conducted in parallel with a large battery fire testing program on behalf of a large energy storage company.