ORENCO Hydropower Vice Chairman Mark Matousek was a featured panelist at Platts 14th Annual Financing U.S. Power conference held in New York on October 18–19, 2012.
Palo Alto, CA November 02, 2012

Financing renewable projects in a world without subsidies was the theme discussed by ORENCO Hydropower's Vice Chairman Mark Matousek as a featured panelist at Platts 14th Annual Financing U.S. Power Conference on October 18–19, 2012. Held in New York, New York, the event focus was "Financing U.S. Power: Making Sense of Power Markets in Uncertain Financial Times." Attended by top-level executives, bankers, developers, private equity firms, utilities and others, the conference focused on current power project deals, the funding behind them and recent industry trends.
The panel that included Mr. Matousek addressed "Renewables – How Will Deals Move Forward without Tax Credit Incentives?" Featuring five experts in various areas of renewable energy, the group examined whether renewables are sustainable without incentives, where investors can look for the next renewable deal and how might it be funded, and the economic comparison of hydropower as tax credits expire.
Mr. Matousek's presentation – "Financing Renewable Projects: Working in a World Without Subsidies" focused on the future of renewable financing and, specifically, on future hydropower development at existing dams and waterways. Comparisons were made among solar, wind, geothermal and small hydro on a levelized cost of energy basis, detailing the potential of hydropower even without the subsidies that may soon expire. Opportunities and challenges for small hydro were also explored, as well as how ORENCO Hydropower has positioned its business to address these issues.
Highlights of the presentation included:
A vision of the future for renewable investors that sees: 1) low natural gas prices continuing to hold down wholesale electricity prices; 2) the likely elimination or reduction of investment tax credits (ITCs) for renewables, with remaining incentives tied to project value, not cost; 3) real system costs increasingly being allocated to projects; and 4) site limitations for new projects increasing their levelized cost of energy (LCOE).
Including information on recent studies by Black & Veatch, Strategic Decisions Group and the Department of Energy, the presentation also illustrated other key points:
-- In North America over the last decade, development of small hydro (at just 1 GW) has been dwarfed by wind (113 GW) and solar (21 GW).
-- Wind and solar have received high levels of federal and state subsidies to make them financially viable, thereby keeping their real costs of power artificially low.
-- By contrast, incremental hydro (that is, hydropower added to existing dams or waterways) remains profitable in the absence of incentives and subsidies, and therefore is less risky than other renewables – especially in low energy prices states.
-- Without subsidies, incremental hydroelectric power is one of the U.S.'s most economic sources of renewable energy with economic investment of ~$35–50 billion. Moreover, there are other benefits:
>> Unlike other renewable resources like wind and solar, hydro assets are dispatchable and provide a steady source of energy with little need for new transmission development.
>> Incremental hydro's levelized cost of energy is lower, not only versus other renewables, but also gas, coal and nuclear.
>> Since only 3% of the 84,000 U.S. dams have power generating capability, about 13–18 GW ($35–50 billion) of new incremental hydro capacity is forecast to come from existing dams, which are often located near cities, thus minimizing transmission costs. These incremental developments are the lowest cost hydro-development alternatives; their levelized energy costs are significantly less than wind or solar generation when subsidies are removed.
Despite these opportunities, Mr. Matousek noted that investment in small hydro has been dwarfed by wind and solar for three key reasons: 1) individual project development is very difficult to finance; 2) the industry is fragmented; and 3) with a lack of awareness of hydro's benefits, the industry's influence on legislators and regulators has been limited.
Concluding his comments, Mr. Matousek explained how ORENCO Hydropower is addressing these three major limitations by: 1) developing a diversified portfolio of 20–30 small projects, which improves the risk profile to investors; 2) working with major Chinese suppliers, with vast experience and proven results, to provide equipment and engineering at 30–50% lower cost; 3) integrating a network of small project developers to provide negotiating leverage; 4) working with industry leaders to level the playing field and reflect real project costs and benefits; and 5) investing heavily in small hydro over the next 5–10 years.
For a complimentary copy of the ORENCO Hydropower presentation, please contact Mark Matousek at mmatousek@orencohydro.com or 650-475-4403.
ABOUT ORENCO HYDROPOWER
ORENCO Hydropower, Inc. develops small hydropower generation assets at existing dams and waterways that are low-cost and low-impact. The company assembles and manages a portfolio of hydro projects; and provides engineering, equipment procurement and financing for ongoing projects. Products and services include end-to end development of 1 MW to 50 MW hydropower projects; resale and integration of reliable Chinese turbines and generators to other hydro developers – at significant cost advantages; and partnering with small hydro developers to provide project financing and support.
Featured Product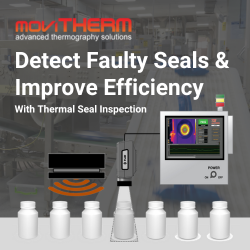 MoviTHERM's Thermal Seal Inspection (TSI) solution provides precise and reliable detection of defects in a variety of packaging types, including pouches, bags, blister packs, bottle caps, and more. By detecting defects in your packages, the TSI solution helps increase efficiency in your production line and ensures top-quality packaging is delivered to your customers every time. With state-of-the-art technology and an experienced team, MoviTHERM is dedicated to delivering accurate inspection solutions and peace of mind to its clients. Contact MoviTHERM today to learn more about their thermal seal inspection solution.