Qualcomm to speak on WEVC at The Battery Show & Charging Infrastructure Expo
Novi, Mich., November 1, 2012 – As electric vehicle adoption continues to grow, companies are improving charging technologies to suit the needs of drivers. The organizers of The Battery Show announced today that Qualcomm will present a seminar on wireless electric vehicle charging (WEVC) – at The Battery Show & Charging Infrastructure Expo in Novi, Mich., on Tuesday, Nov. 13, 2012.

Qualcomm HaloTM WEVC technology uses resonant inductive wireless energy transfer to eliminate the plug-in cord used in most electric vehicles (EVs) and plug-in hybrid electric vehicles (PHEVs). The technology allows charging across a bigger air gap, making it more flexible for different vehicles and charging configurations. Drivers can charge their vehicle battery easily, by simply parking in a space equipped with the technology.
"Having a leader in wireless technology presenting furthers our commitment to offering a conference that addresses real issues in the industry," said Adam Moore, exhibition director.
The seminar will provide industry leaders with a comprehensive overview of the advantages of the WEVC system, design considerations and configuration options.
Qualcomm will provide the opening keynote presentation at the co-located Charging Infrastructure Expo, a conference that brings businesses and government groups together, focusing on operation and installation of charging infrastructure. Qualcomm also has a stand at the show, B210 in the Charging Infrastructure Expo zone. The company also will exhibit, joining global leaders from the battery and charging industries in a 130,000 square foot hall featuring more than 200 companies.
ABOUT THE BATTERY SHOW
The Battery Show is a free-to-attend advanced battery showcase that demonstrates the latest battery technologies and solutions, from electric vehicle applications to raw material suppliers. Its two-track business and technology conference examines market development and opportunities. For more information, visit thebatteryshow.com.
ABOUT CHARGING INFRASTRUCTURE EXPO
Charging Infrastructure Expo is a free-to-attend exhibition on electric vehicle charging technologies across the supply chain. Providers of charging technology can meet with charging station operators from commercial and government sectors. For more information, visit chargingexpo.com.
ABOUT QUALCOMM
Qualcomm is pioneering the development of Wireless Electric Vehicle Charging (WEVC) technology as a way to bring Electric Vehicles (EV) to the mass market. Simplicity and Ease of Use are key features of Qualcomm Halo WEVC, which will help drive global EV adoption.
Featured Product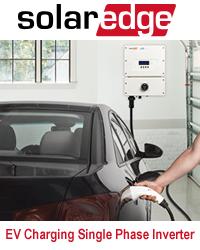 The SolarEdge PV inverter combines sophisticated digital control technology with efficient power conversion architecture to achieve superior solar power harvesting and best-in-class reliability. The fixed-voltage technology ensures the solar inverter is always working at its optimal input voltage over a wider range of string lengths and regardless of environmental conditions. A proprietary data monitoring receiver has been integrated into the inverter and aggregates the power optimizer performance data from each PV module. This data can be transmitted to the web and accessed via the SolarEdge Monitoring Portal for performance analysis, fault detection and troubleshooting of PV systems.