Dow is focused on delivering sustainable solutions to help address many of the world's most crucial challenges
MIDLAND, Mich.--The Dow Chemical Company (NYSE:DOW) announced today that it has opened a Photovoltaics Films Application Laboratory in Shanghai to help customers in the Asia-Pacific region improve how they harness the power of the sun with ENLIGHT™ Polyolefin Films technologies and solutions.

"Asia-Pacific is an important and growing market for our ENLIGHT™ Polyolefin Encapsulant Films and Back Encapsulant Composite materials," says Hawk Gao, Asia-Pacific Business Development Manager for the Photovoltaics Business.
Dow has commercialized polyolefin-based encapsulant films and launched the back encapsulant composite films that are enabling photovoltaic panel manufacturers to make efficient, long-lasting and innovative products for the global market. Earlier this year, Dow opened a manufacturing facility in Map Ta Phut, Thailand, to make these innovative ENLIGHT™ products.
"We want to support this growth with a strong, local applications laboratory that can meet current and future needs of customers who are designing and making photovoltaic panels. We think our products are especially valuable to those who want to take advantage of some of the newest technology on the market," said Tom Burns, Global R&D Director for the business.
The newly opened Photovoltaics Films Applications Laboratory is located within the Shanghai Dow Center. A sampling of the lab's capabilities includes:
*Lamination of films for testing in PV modules
*Accelerated weather testing
*Electrical resistance testing
*Moisture testing
*Haze/gloss measurements for films
*Glass adhesion testing
Dow is focused on delivering sustainable solutions to help address many of the world's most crucial challenges – including the need for clean energy – and continues to invest in products and manufacturing capabilities to help PV manufacturers improve efficiency and lower their total system costs. For more information about Dow's presence in this growing market, please visit www.dowsolarpv.com.
About Dow
Dow (NYSE: DOW) combines the power of science and technology to passionately innovate what is essential to human progress. The Company connects chemistry and innovation with the principles of sustainability to help address many of the world's most challenging problems such as the need for clean water, renewable energy generation and conservation, and increasing agricultural productivity. Dow's diversified industry-leading portfolio of specialty chemical, advanced materials, agrosciences and plastics businesses delivers a broad range of technology-based products and solutions to customers in approximately 160 countries and in high growth sectors such as electronics, water, energy, coatings and agriculture. In 2011, Dow had annual sales of $60 billion and employed approximately 52,000 people worldwide. The Company's more than 5,000 products are manufactured at 197 sites in 36 countries across the globe. References to "Dow" or the "Company" mean The Dow Chemical Company and its consolidated subsidiaries unless otherwise expressly noted. More information about Dow can be found at www.dow.com.
Featured Product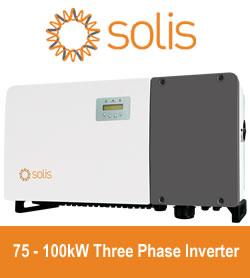 Solis75kW - 100kW series high-power string inverters are widely used in industrial and commercial rooftops. Solis's new three-phase string inverter is the first choice for industrial and commercial photovoltaics. 75-100kW three phase series string inverter have Maximum 28 strings input, support "Y" type connection in DC side. Maximum string input current 13A, support bifacial modules access.Supports anti-PID function to improve system efficiency.