Manufacturer Unveils First Publicly Available DC Quick Charger on ChargePoint
EDISON, N.J. & CAMPBELL, Calif.--Fuji Electric Corporation of America announced today that it has unveiled the first publicly available DC Quick Charger on ChargePoint at the Residence Inn by Marriott in San Juan Capistrano, California. Owned and operated by EV-integrator Evoasis, the 25kW charging station is open to the public and conveniently located along the Interstate-5, offering electric vehicle drivers a quick and easy charging experience. Providing a full charge in approximately 60 minutes, Fuji Electric's DC Quick Chargers have been installed in hundreds of locations around the world, and the integration with ChargePoint means that drivers can easily access real time station availability and manage charging sessions.

"Fuji Electric is thrilled to be partnering with Residence Inn San Juan Capistrano and Evoasis to offer electric vehicle owners a fast and convenient charging method," says Phil Charatz, president and CEO of Fuji Electric Corp. of America. "The integration of ChargePoint in our DC Quick Charger enhances the user experience, and we are proud to be the first publicly available DC Quick Charger on their network. We are committed to the EV industry, and will continue to take every opportunity available to further the development of the EV infrastructure in the United States."
ChargePoint-enabled Fuji Electric stations are included on all ChargePoint mobile phone applications for iPhone and Android. These ChargePoint mobile apps provide an easy way to locate stations near any specified address and get turn-by-turn directions. Additionally, these applications allow drivers to utilize ChargePoint's station reservation feature. Drivers can locate stations and make, view and cancel a reservation time slot directly from a smart phone. EV drivers can access features including the ability to: help with trip planning, manage the cost of charging, and find and operate public ChargePoint-enabled stations.
"The collaboration with Fuji Electric has been an important milestone for ChargePoint as we expand the reach of our network to serve all aspects of an EV driver's charging needs," said Pat Romano, president and CEO of ChargePoint. "The combination of Fuji Electric's extensive DC charging experience and Residence Inn San Juan Capistrano's reputation for helping travelers thrive on the road for extended periods made it ideal for the launch of the first publicly available DC Quick Charger on ChargePoint."
The introduction of the Residence Inn unit marks Fuji Electric's fourth operational DC Quick Charger in the U.S. following their formal entry into the North American market in March 2012. With more than 300 units deployed worldwide, the Tokyo-based electronics manufacturer has opted to focus on 25kW DC Quick Charging in the U.S., citing the need to help station owners manage installation and utility costs. Their new charging station will be released in December 2012, and will feature a slimmer design and optimized user interface.
About Fuji Electric Corp. of America
Fuji Electric Corp. of America is a wholly owned subsidiary of Fuji Electric Co., Ltd., and has been responsible for sales and distribution of the company's products since 1970. Fuji Electric Co., Ltd. has been developing power electronics equipment since 1923, and is a global leader in industrial products ranging from semiconductors, power supply, and power generation equipment to AC drives and electric vehicle charging stations. For more information please visit www.americas.fujielectric.com.
About ChargePoint
ChargePoint is the largest online network of independently owned charging stations operating in more than 14 countries. ChargePoint provides everything station owners need to deliver turnkey charging services in their parking lots. For drivers, ChargePoint provides state of the art features including the ability to locate, reserve and navigate to unoccupied charging stations with online tools and mobile applications for iPhone and Android. The ChargePoint Network is open to all charging station manufacturers. Stations on ChargePoint are currently dispensing over 812 Megawatt hours of energy each month, with drivers plugging in for more than 4100 charging sessions per day. Follow us on Twitter @chargepointnet. Like us on Facebook @ChargePoint.
About Evoasis
Evoasis Corporation designs and operates the world's first full-service, multi-point, Rapid-Charging stations, offering driver comforts, outstanding food and beverages and broadband wireless access, all delivered in relaxing drivers lounge and retail centers. Using the latest in energy-efficient building designs and incorporating solar canopies and energy-storage systems, Evoasis customers and members experience world-class service, state-of-the-art technology and 24-Hour security while recharging their electric vehicles. Evoasis' Marriott ChargePoint locations provide customers and members a similar comfort experience and secure setting while charging their vehicles, enjoying the hospitality, amenities and exceptional customer-care and guest services from the world-renowned Marriott brand.
For more information please visit www.evoasis.com or email info@evoasis.com. Follow us on Twitter at www.twitter.com/evoasis or call 858-509-2973.
About the Residence Inn San Juan Capistrano
With more than 600 properties in the United States, Canada, Europe, the Middle East and Central America, Residence Inn by Marriott is a leader in the extended-stay lodging segment. Designed for long stays, the brand offers spacious suites with separate living and sleeping areas. Fully functional kitchens, grocery delivery, 24-hour markets and complimentary breakfast help guests maintain a healthy balance while on the road. Complimentary Wi-Fi allows guests to stay connected to the home and office, while health and fitness options and inviting lobby spaces provide comfortable places to work and relax.
The Residence Inn San Juan Capistrano is a brand new all-suite hotel property welcoming business and leisure travelers with comfortable accommodations and attentive service. Each of the hotel's 130 suites feature the convenience of full-size kitchen appliances, granite countertops, flat-screen TVs and separate sleeping and living areas for a remarkable hotel experience. An ideal choice for small San Juan Capistrano business or social gatherings, the hotel offers two meeting rooms with the latest in audio-visual technology and event services for hosting company board meetings, training sessions or family reunions. Visit Marriott International, Inc. (NYSE: MAR) for company information. For more information or reservations, please visit our website at www.marriott.com, and for the latest company news, visit www.marriottnewscenter.com.
Residence Inn participates in the company's award-winning Marriott Rewards frequent travel program that allows members to earn hotel points or airline miles for every dollar spent during each stay. For more information or reservations, contact the Residence Inn San Juan Capistrano directly at (949) 443-3600, call the Residence Inn toll-free number at 800-331-3131 or visit www.residenceinn.com. For travel tips, the latest on the brand or to connect with other travelers, "like" Residence Inn on Facebook: www.facebook.com/residenceinn.
Featured Product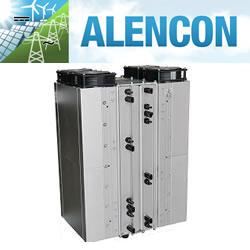 Alencon Systems is the premier manufacturer of high power, high voltage DC:DC optimizers for alternative energy applications including solar, battery energy storage, Microgrids, Fuel Cells and Electric Vehicle charging. Alencon's DC:DC converter offerings include the SPOT, BOSS and CUBE series DC:DC converters. The SPOT is a modular, uni-directional DC:DC solution ideal for solar applications. The BOSS is a modular, bi-directional unit for use with battery energy storage. The CUBE is a monolithic DC:DC converter which is available in both uni-directional and bi-directional modalities. Pictured above, is the Alencon SPOT.