In a new analysis identified seven areas that will need to be prioritized and the reasons why investment has not collapsed and is getting smarter
Efficiency is and will be a top priority for water utilities during the coming years and will create a favourable environment for innovations, finance and new business models. Despite wider economic challenges, funds have been focused on improving efficiency through innovation. A Frost & Sullivan analysis on innovation, efficiency and creative finance in the water sector addresses new methods of improvement.

The Big 5 water utility markets (France, Germany, Italy, Spain, and the United Kingdom) in 2012 account for almost $50 billion (77.8%) of CAPEX and OPEX spending in Europe and as such are leaders and crucial testing grounds for new technologies and innovative practices. "Understanding this region is important as the variation of economic, demographic, political and social realities help produce trends that can be translated to many other regions. Water utility investment has not collapsed in these countries, but is instead getting smarter and looking at opportunities that provide greater confidence in returns," says Frost & Sullivan Research Analyst Seth Cutler.
Frost & Sullivan has identified the following seven areas as market priorities for innovation and efficiency.
Chemical Management will move forward in two ways: first, chemical consumption will be maximised through more efficient use; and second, the development of chemical alternatives will continue as the industry seeks a way to move away from the base material of oil, which is subject to intense price fluctuations.
Decentralisation rebalances water networks and services to reflect a more natural demand and supply environment. Recent decreases in urban population and a growth in complex residential patterns harm a water industry that was created for centralized urban growth.
Energy Efficiency and Production prioritize innovations such as the wastewater to energy movement and energy optimizing pumps. Water utilities need relief from increasing energy prices, which consume a majority of operating costs in distribution and wastewater services.
Smart Water Technologies address the leakage levels, which can often be averaging 22.2% of water, due to leaks and bursts. This is both financially and environmentally beneficial. Pipe replacement plans, sensors and data communicating devices in pipes offer a solution for the industry.
Sludge Management uses advanced technology solutions to minimize waste levels, while the remaining sludge waste can be turned into revenue through recovered nutrients and fertilizers and biogas production.
The Cost Recovery Principle needs to be effectively implemented by water utilities and the benefits need to be communicated to consumers as the cost of water will rise in the coming years regardless.
The advancement of these areas will refocus investments on providing the greatest value, while improving efficiency and sustainability." The ongoing economic crisis in Europe threatens this possibility. However, there are dynamic ways for the industry to increase access to capital", concludes Mr Cutler. These methods include: public private partnerships, consolidation of small, local utilities, balance between capital and operational expenditures, operational innovations, and the varying methods of water service privatization.
If you are interested in more information on innovation and efficiency in the water sector, please send an e-mail with your contact details to Chiara Carella, Corporate Communications, at chiara.carella@frost.com.
About Frost & Sullivan
Frost & Sullivan, the Growth Partnership Company, works in collaboration with clients to leverage visionary innovation that addresses the global challenges and related growth opportunities that will make or break today's market participants.
Our "Growth Partnership" supports clients by addressing these opportunities and incorporating two key elements driving visionary innovation: The Integrated Value Proposition and The Partnership Infrastructure.
• The Integrated Value Proposition provides support to our clients throughout all phases of their journey to visionary innovation including: research, analysis, strategy, vision, innovation and implementation.
• The Partnership Infrastructure is entirely unique as it constructs the foundation upon which visionary innovation becomes possible. This includes our 360 degree research, comprehensive industry coverage, career best practices as well as our global footprint of more than 40 offices.
For more than 50 years, we have been developing growth strategies for the global 1000, emerging businesses, the public sector and the investment community. Is your organisation prepared for the next profound wave of industry convergence, disruptive technologies, increasing competitive intensity, Mega Trends, breakthrough best practices, changing customer dynamics and emerging economies?
Contact Us: Start the discussion
Join Us: Join our community
Subscribe: Newsletter on "the next big thing"
Register: Gain access to visionary innovation
Contact:
Chiara Carella
Corporate Communications – Europe
P: +44 (0) 20 7343 8314
M: +44 (0) 753 3017689
E: chiara.carella@frost.com
http://frost.com
Featured Product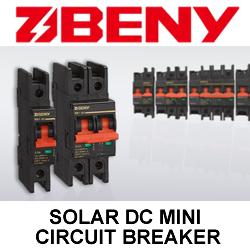 The BB1-63 modular miniature circuit-breakers can be used in solar DC circuits up to 1200 VDC (4-poles execution). Application in solar DC circuits, battery energy storage systems and UPS. Arc flash barrier design keeps solar equipment more safe and reliable. For DC circuit over-current protection.