The E-Box system will be combined with a solar panel to provide an environmentally friendly solution to power outages for affordable housing in that part of the world.
SEOUL, South Korea, Nov. 12, 2012 -- Leo Motors, Inc.

(OTCQB:LEOM) ("Leo Motors" or the "Company"), an electric supercar and
electrical energy storage device maker, and PDI C&D/RDC SPRL Inc.
("PDI"), an affiliate of PDI Global LLC, a major architectural design
company in the U.S., have signed a contract to supply an independent solar
power system grafted with Leo Motors' E-Box power storage device for a
housing project in the Democratic Republic of the Congo ("DRC").
The contract contemplates an initial sale of 5,000 E-Box solar sets at an
aggregate sales price of $64 million targeted to begin in 2013.
Additionally, the purchaser can order an additional 50,000 E-Box Solar sets.
However, there can be no assurance that any orders will actually be placed
as a result of the agreement.
The E-Box system will be combined with a solar panel to provide an
environmentally friendly solution to power outages for affordable housing in
that part of the world. Unlike existing power systems, the Solar E-Box
system is a Central Energy Storage System, which allows individual houses to
use electric power through a photovoltaic system, eliminating huge facility
costs. When fully charged, the E-Box automatically stores electricity. The
all-in-one E-Box combined with a photovoltaic system streamlines the power
generation process by eliminating many other components applied to existing
photovoltaic systems.
Based on its production schedule, the Company expects to complete the full
order by the end of 2015.
"This contract is significant, as it is Leo Motors' first signed contract to
provide Solar E-Box systems supplying an independent electric energy source
for homes in the DRC," said Jung Yong Lee, CEO of Leo Motors. "The energy
storage system market is showing an upward trend worldwide. We anticipate
that demand for the Solar E-Box will increase."
About Leo Motors
Leo Motors is a public U.S. company based outside of Seoul, Korea. It
engages in the development, manufacture, and sale of Electric Vehicle
(EV) Power Trains and components. Leo Motors has developed many original EV
power trains and has converted many models of existing internal combustion
engine (ICE) vehicles into EVs, including scooters, motorcycles, highway
speed sedans, buses and trucks. Leo Motors has also developed a Zinc Air
Fuel Cell Generator (ZAFCG), which will free EVs from range limit with zero
emission.
Featured Product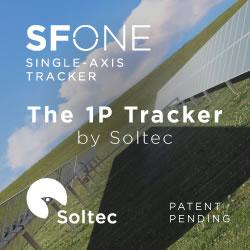 SFOne is the 1P single-axis tracker by Soltec. This tracker combines the mechanical simplicity with the extraordinary expertise of Soltec for more than 18 years. Specially designed for larger 72 an 78 cell modules, this tracker is self-powered thanks to its dedicated module, which results into a lower cost-operational power supply. The SFOne has a 5% less piles than standard competitor, what reduces a 75% the labor time.