New single-module system costs less, lowers installation expense and reduces system build and maintenance costs.
SAN DIEGO, Calif. (November 9, 2012) – Maxwell Technologies, Inc. (Nasdaq: MXWL), the leading global supplier of ultracapacitors, announced today it has introduced a 160V ultracapacitor module designed to provide energy storage and power delivery for wind turbine pitch control, short-term uninterrupted power supply (UPS) and renewable energy systems. Primarily targeted at pitch control systems for 1.5 to 3MW wind turbines, the 160V module provides a turnkey solution to simplify the installation process and reduce costs for all integration partners.

According to the company, the new 160V module is a cost-effective and easy-to-install energy storage and power delivery solution for wind turbine pitch control systems from Maxwell Technologies who has ultracapacitor technology installed in more than 20,000 wind turbines worldwide. Ultracapacitors have been designed into an increasing share of the electric pitch system portion of the market because of their longer operating lifetime, low maintenance requirements and superior cold weather performance compared with batteries.
"Our new single-module solution for wind turbine pitch control systems is easier and less costly to install than other product designs, requires fewer connections improving safety and reliability and reduces overall system build and maintenance costs," said Jeff Venegas, senior product marketing manager, Maxwell Technologies.
Ultracapacitors provide burst power for electrical blade pitch control systems that enhance the consistency of wind turbines' electrical energy output and ensure rotor speed remains within a safe operating range by constantly adjusting turbine blades to compensate for changes in wind velocity. Ultracapacitors also provide an independent source of backup power for orderly shutdown in the event of a main system power failure and are used to smooth the flow of wind farms' output to the electric utility grid.
Unlike batteries, which produce and store energy by means of a chemical reaction, Maxwell ultracapacitor products store energy in an electric field. This electrostatic energy storage mechanism enables ultracapacitors to charge and discharge in as little as fractions of a second, perform normally over a broad temperature range (-40 to +65C), operate reliably through 500,000 or more charge/discharge cycles and resist shock, vibration and overcharging.
About Maxwell
Maxwell Technologies is a leading developer and manufacturer of innovative, cost-effective energy storage and power delivery solutions. Our ultracapacitor products provide safe and reliable power solutions for applications in consumer and industrial electronics, transportation and information technology. Our high-voltage grading and coupling capacitors help to ensure the safety and reliability of electric utility infrastructure and other applications involving transport, distribution and measurement of high-voltage electrical energy. Our radiation-mitigated microelectronic products include power modules, memory modules and single board computers that incorporate powerful commercial silicon for superior performance and high reliability in aerospace applications. For more information, please visit our website: www.maxwell.com.
Featured Product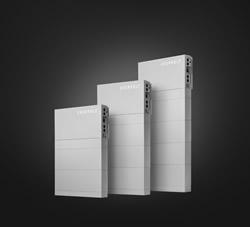 Offer homeowners best-in-class solar and energy storage in one money-saving bundle. Panasonic's new EverVolt™ Series modules come in 350W, 360W, 370W & 380W models and work seamlessly with their EverVolt battery storage - all warrantied by one of America's most trusted brands.