WATT Fuel Cell Corp., a developer and manufacturer of solid oxide fuel cell (SOFC) systems, announces several advancements in the production of its portable and small stationary fuel cell system platforms for commercial and military applications.
PORT WASHINGTON, N.Y., November 14, 2012 – WATT Fuel Cell Corp., a developer and manufacturer of solid oxide fuel cell (SOFC) systems, announces several advancements in the production of its portable and small stationary fuel cell system platforms for commercial and military applications. These include refinement of the company's cell manufacturing process, reduction of costs in cell and stack production and balance-of-plant componentry, completion of system testing on a 500-watt propane-powered unit, and preparation for initial product rollouts in 2013.

"The market value of fuel-based distributed generation technologies is estimated to reach $74.3 billion by 2015*," said Dr. Caine Finnerty, president of WATT Fuel Cell. "Poised to address this demand, we have taken a holistic approach in our development of a reliable, cost-effective technology platform that can run on readily available fuels. Our focus has also been on developing a system that offers flexibility across a variety of commercial and military applications, can use numerous fuel sources, and provides a range of power outputs while operating under varying environmental conditions."
Over the last two years, WATT Fuel Cell has developed advanced portable and small stationary power systems that provide light, efficient, affordable, nearly silent and environmentally responsible energy generation solutions for on-demand power applications in the leisure, portable power and distributed generation markets of both the residential and commercial sectors. The company has also begun stack production and is further scaling up this process to support several channel partner commitments in preparation for initial product rollouts.
"Being able to use accessible fuel is key to the success of the fuel cell industry, and we've focused on our technology's ability to use readily available gaseous and liquid fuels for commercial and military applications," Finnerty said. "This includes propane and natural gas for the commercial market, and liquid fuels such as Diesel (D2) and JP-8 for the military."
The company has also refined its patented cell manufacturing process, substantially reducing production times while increasing part quality, performance and yield. WATT Fuel Cell is currently using this advanced manufacturing process to validate the economic viability and reaffirm the cost competitiveness of its systems while escalating from pilot to low-rate initial production.
"Our process not only makes cost-effective stack manufacturing a reality, but also permits manufacturing scalability to quickly flex, matching market demand," said Benjamin Emley, technology director at WATT Fuel Cell.
According to Emley, the company is presently scaling into full-rate production at its manufacturing facility on Long Island.
In addition, WATT Fuel Cell has made progress in designing cost-effective stacks and balance-of-plant (BoP) components for fuel cell system operation.
"All WATT Fuel Cell systems are designed with simplified automated manufacturing in mind, our low- pressure stack design enables us to operate on the natural gas already available in utility supply lines with no additional system components," said Paul DeWald, systems director at WATT Fuel Cell. "Also, by streamlining the stack design to reduce back pressure, we're able to use more cost-effective and reliable off-the-shelf BoP components. As cost is a crucial factor in installation and retrofits, we have designed our technology to meet those requirements, instead of allowing it to drive complexity and cost."
According to DeWald, the company is currently producing propane-powered stacks capable of generating more than 500 watts of power, has completed initial system testing and is currently scaling its new cell technology for full-rate stack production. In addition, WATT Fuel Cell plans to demonstrate propane-powered 1-kilowatt systems by the end of this year.
"When examining the path of our success to date, it's really quite simple," said Finnerty. "We listened to our channel partners and developed initial products around the key performance parameters of their power needs. And while new applications might require modifications to what we've achieved thus far, WATT Fuel Cell has designed an exceptionally flexible technology that will allow us to make rapid modifications to the core technology based on dynamic customer requirements. We're very excited to have developed a platform that will enable us to achieve energy generation goals that haven't traditionally been available in our industry."
For additional information, visit www.wattfuelcell.com or email info@wattfc.com.
-# # #-
*Data procured from BCC Research report published in October 2011 entitled "Energy and Resources: The Global Market for Distributed Energy Generation."
Featured Product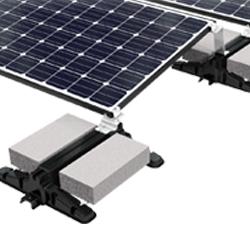 Preformed Line Products introduces the POWER MAX Ballasted Roof Mounting System. The POWER MAX solar mounting system is engineered to maximize energy output on commercial flat roofs. Developed with the professional installer in mind, this system offers adjustable inter-row spacing in the field of up to 11 inches. It features 50% fewer components and a simplified design resulting in faster assembly rates and labor savings on every project. Available in a flush mount, 5˚ or 10˚ tilt or higher density dual tilt design, the POWER MAX base arrives stacked on pallets providing easier transport to the roof. Engineered as a fully ballasted, non-penetrating system, it accepts standard concrete blocks and is qualified by wind tunnel testing.