New innovative technology, consulting expertise and partnerships expand the IES Hub for a more sustainable built environment
Boston – November 14, 2012 – Integrated Environmental Solutions (IES), a provider of integrated performance analysis software and consulting services for sustainable building design, today announced it will be exhibiting at the U.S. Green Building Council (USGBC) Greenbuild International Conference and Expo for the ninth consecutive year. IES will showcase its USGBC LEED Automation partnership and the expansion of its 'IES Hub' partnership program at booth 1732S.

USGBC's LEED Automation program connects leading technology companies to the robust data platform that powers LEED Online and a diverse suite of third-party applications. Many recent IES innovations and developments significantly help streamline and assist the LEED certification process, including its new online LEED project management software, IES TaP for LEED 2009, advancements in its automated credit assessment and sophisticated LEED energy modelling tools, VE-Navigator for LEED and VE-Navigator for ASHRAE 90.1.
The 'IES Hub' partnership program was launched at Greenbuild 2011 and is continuing to expand. Through integrated services, IES combines innovative technology with extensive consulting expertise to cut through greenwash. The Hub allows a variety of built-environment stakeholders to take advantage of IES's unique proposition.
"The Sustainability Hub allows you to quantify, optimize and verify sustainable and energy efficient building practices in an integrated way throughout the building lifecycle." said Don McLean. "IES is co-ordinating the analysis needs of a wide range of sustainability providers and consumers from manufacturers and software companies to building owners."
The application of Virtual Building technology from design, through construction and commissioning on into operation and renovation/adaptation offers a 3D platform upon which Smart building principles can be built. In order to transform the use of analysis technology and deliver the latest innovations in sustainable design, IES commits around 30 percent of expenditure to Research & Development and participates in numerous collaborative funding projects.
About IES
Integrated Environmental Solutions' (IES) mission is to advance the sustainability of the world's built environment through the use of integrated performance modelling technology, delivering resource efficient, low-energy, zero-carbon buildings and cities for future generations. For additional information, please visit www.iesve.com. You can also follow us on Twitter and join us on Facebook and LinkedIn for the latest IES news, or read our blog.
Featured Product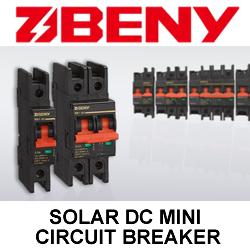 The BB1-63 modular miniature circuit-breakers can be used in solar DC circuits up to 1200 VDC (4-poles execution). Application in solar DC circuits, battery energy storage systems and UPS. Arc flash barrier design keeps solar equipment more safe and reliable. For DC circuit over-current protection.