Garden State Offshore Energy is a planned utility scale project of approximately 1,000MW installed capacity, over 20 miles offshore due east of Avalon, NJ.
November 2012

International marine engineering company SeaRoc are delighted to announce the successful delivery and deployment of a SeaZephIR® product to Garden State Offshore Energy (GSOE), a US joint venture project between Deepwater Wind and PSE&G Renewable Generation.
Garden State Offshore Energy is a planned utility scale project of approximately 1,000MW installed capacity, over 20 miles offshore due east of Avalon, NJ.
SeaZephIR has been engineered and installed by SeaRoc to provide an autonomous, low-motion, tension leg platform with integrated wind lidar, allowing offshore wind resource assessments to be performed without the need of a fixed structure or traditional met mast. In addition to the ZephIR 300 wind lidar which provides wind speed and direction measurements from just ten metres (33ft) up to an impressive 200 metres (656ft) above installed position, the buoy measures motion, wave heights and is also equipped with a Class 1 cup anemometer and wind vane. The GSOE buoy has been named the New Jersey Offshore Research Device (NJORD).
SeaZephIR has been developed to deliver finance-grade metocean data with a proven wind lidar on a stable tension leg platform, in a cost-effective and safe manner. The net result allows for effective and efficient development of offshore wind projects such as the GSOE project.
Following a period of some 8 weeks validation off Block Island, USA, the tension leg buoy has been relocated to the New Jersey site to assist in the data collection for the owners of this completely newly designed structure. The validation tests demonstrated a 99% correlation between the SeaZephIR results from the NJORD and the results from Deepwater Wind's fixed met mast located less than a mile away on Block Island. On 12th November, the NJORD was successfully deployed 23 miles off the coast of Atlantic City in southern New Jersey where it is expected to remain for up to two years to support GSOE's planned offshore wind farm.
Eric Briar, Managing Director at SeaRoc commented on the installation: "Further to prototype testing in 2011 with Garden State Offshore Energy, and combined with associated research and extensive marine experience, we have re-developed and matured SeaZephIR to the product delivered and an extremely safe, efficient and successful installation was completed in on the 12th November 2012. This is a very exciting period for SeaRoc and the companies involved in SeaZephIR. We have a product that is now engineered to a very high standard and we continue to refine the product where possible.
Combining the ZephIR 300, a proven wind lidar system, with a stable device representative of a fixed platform provides the traceability required for gathering finance-grade wind data, essential in the development of offshore wind energy projects. The buoy itself is designed to survive in 1 in 50 year worst case metocean conditions, with a mooring system capable of being redeployed allowing SeaZephIR to become a roaming offshore anemometry device, as required, either around a single site or between multiple locations."
Deepwater Wind President Chris van Beek also noted: "The NJORD buoy, with its SeaZephIR technology is an important advance for the offshore wind industry. We validated the results of the system against our fixed met mast on Block Island, and the results were excellent. This technology is the future of offshore data collection."
GSOE Vice President Rob Gibbs added: "GSOE is pleased with the successful deployment of the NJORD and looks forward to using this new but now demonstrated technology for assessing the wind resource off the coast of New Jersey. This is a great example of a public-private partnership between GSOE and the State of New Jersey, which provided critical grant funding for the NJORD."
For more information visit www.searoc.com
Featured Product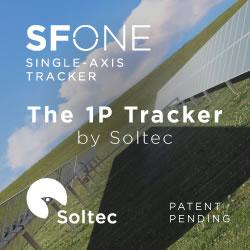 SFOne is the 1P single-axis tracker by Soltec. This tracker combines the mechanical simplicity with the extraordinary expertise of Soltec for more than 18 years. Specially designed for larger 72 an 78 cell modules, this tracker is self-powered thanks to its dedicated module, which results into a lower cost-operational power supply. The SFOne has a 5% less piles than standard competitor, what reduces a 75% the labor time.