The biodiesel industry is changing apace. What was an established and secure global industry has been shaken by recent governmental support across the world for next generation production.
On October 17th, The European Commission announced a major new policy direction aimed at driving the production and consumption of next generation biofuels within Europe.

The proposals, announced jointly by DG Energy and DG Climate Action, look to limit the use of food-based biofuels. The EU has a target that by 2020, 10% of energy used in transport will come from renewable sources. Under the new proposals, just 5% of that will be allowed to come from food-based biofuels.
The intention of the new proposal is two-fold. Firstly, to promote biofuels that offer real and substantive cuts in emissions once alternative land-use standards have been considered. Secondly, for the EC to establish a clear position on the food vs. fuel debate and encourage the establishment of a bio-economy that does not risk contributing to escalating food prices by competing for edible feedstocks.
Energy Commissioner Günther Oettinger said: "This proposal will give new incentives for best-performing biofuels. In the future, biofuels will be saving more substantial greenhouse gas emissions and reduce our fuel import bill."
Commissioner for Climate Action Connie Hedegaard said: ''For biofuels to help us combat climate change, we must use truly sustainable biofuels. We must invest in biofuels that achieve real emission cuts and do not compete with food. We are of course not closing down first generation biofuels, but we are sending a clear signal that future increases in biofuels must come from advanced biofuels. Everything else will be unsustainable''.
It is becoming ever more important for anyone involved in biodiesel to break down the first/second generation dichotomy and to be willing to treat the biodiesel industry as a holistic enterprise where a good knowledge of global trends, regional regulation and advances in next generation production processes are all critical components of a successful business model.
With this in mind, the 8th World Biofuels Markets conference in Rotterdam will feature an entire day dedicated to the current state of the global biodiesel sector and how to insulate the biodiesel business model against the oncoming industry paradigm shifts: be they logistical, technological or regulatory. Thought leaders from around the world will present and debate the vision of how the new biodiesel sector will look, and how the businesses that survive will have to adapt.
World Biofuels Markets, organised by Green Power Conferences, will be held on March 12-14 in Rotterdam, Netherlands. The dedicated Waste and Residue Feedstocks day will take place on March 12.
For more information: www.worldbiofuelsmarkets.com/Biodiesels2013
Registration today
Call: +44 (0)20 7099 0600
Email: Samantha.coleman@greenpowerconferences.com
Or book online at www.worldbiofuelsmarkets.com
For more information on this press release please contact Melanie Botting on +44 (0)20 7099 0600 or melanie.botting@greenpowerconferences.com
Featured Product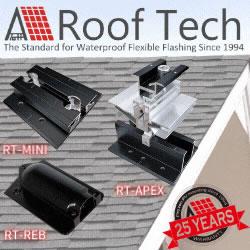 These ongoing webinars cover Roof Tech's background, product design (RT MINI and APEX), code and best practices. You will learn about a proven system that reduces installation time while keeping the integrity of the roofing system. This training will earn you one NABCEP Continuing Education Credit. The webinars are offered every Tuesday from 11 AM PDT to Noon during the months of April and May, 2020.